Start main content
Student Sharing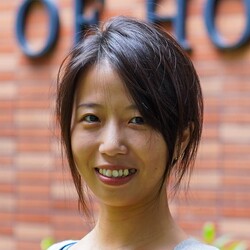 Vriko Yu
PhD student
"The Faculty stresses on the wellbeing and overall development of its fellow students and is making every effort to help them thrive and fulfil their ambitions."
READ MORE

Mr Alejandro Cobo Piekenbrock
2017 Master of Statistics
READ MORE
"The Master of Statistics of the University of Hong Kong enables students to acquire both a solid understanding of statistical theory and extensive knowledge about its state-of-the-art applications. Thanks to the variety of the courses offered in this programme, I could learn more about new areas in statistics, data analytics and risk management. What I liked most during my MStat studies was their friendly professors and staff who taught me very valuable lessons about statistics and life. Overall, the MStat programme is a truly enriching experience which will help students get one step closer to their career goals."

Mr Bovern Suchart Arromrak
PhD student
READ MORE
'My research aims to understand how simple organisms like bacteria are able to survive in some of the most challenging environments, such as those with nutrient limitations or high salinity; and how these will then affect their interactions with other bacterial species or even large organisms such as oysters – the key is to be flexible!
Among the many advantages that you could have for enrolling into HKU Science's PhD programme, the most attractive one for me is that HKU offers us with plenty of academic and personal development opportunities, such as scholarships and funding for research, international-level seminars and dialogues, and even chances to go abroad to expand our research skills, knowledge and global networks.
Apart from that, you get to learn from the some of the best minds in the world here in HKU! The academics here (including my supervisor) are always encouraging and motivating their postgraduate students to strive to the top. They are truly supportive. For example recently, our lecturers have started a journal club for postgraduate students, where we get to sit together at a round table as equals, to discuss on scientific papers about its findings, concepts and thoughts. This not only trains us to speak more confidently in front of the masters, but also, guides us to develop a critical thinking mindset for research.
A combination of all the above elevates my game to the next level and moves me towards becoming a better scientist.'

Ms Chi Wing Claire Lee
2018 Master of Science in Food Industry: Management and Marketing
READ MORE
"Studying this MSc Programme at HKU was truly a rewarding experience. The course lecturers are very knowledgeable and passionate, who have enlightened me a lot regarding my understanding about the current food industry. This curriculum is also designed in a practical perspective and encompasses a wide variety of topics, from food safety and product development, to marketing and management, which are particularly useful for my current career. In this regard, no matter you are pursuing your career in food industry or interested in exploring more in this area, I would certainly recommend this course based on my amazing experience here."

Miss Christina Ng
PhD student
READ MORE
'My research focuses on the development of new catalysts for the efficient labeling of a variety of biomolecules. This would provide a useful tool for the chemical-biologists to study important peptides and proteins, which might help to investigate the physiological mechanisms behind several diseases such as cancers and bacterial infections.
During the three years of my PhD studies, my supervisor, Professor Chi-Ming Che, and the Faculty of Science have provided me with lots of support and guidance. The facilities and instruments in the laboratories are new and well-maintained. Besides, the courses provided by the Graduate School also help to prepare me for my PhD training. They help to build confidence in both my presentation and writing skills. Overall, I would say that studying PhD in Science at HKU is indeed an invaluable experience to me.'

Miss Christina Zhao
BSc alumna
READ MORE
Summer Research Fellowship & Visiting Programme@Yale
Christina Zhao (BSc alumna) & Young Scientist Scheme (YSS)
Current PhD student at Oxford
'Four years at HKU were formative and memorable for me. I was given a lot of flexibilities and opportunities.
Academic-wise, I was able to experience research at as early as sophomore year by participating in Summer Research Fellowship (SRF) programme. In my junior year, I went to Yale for a year as a visiting student. During my time there, I worked on an independent research project with explorative nature. I got to meet with the professor every week to discuss various ideas and techniques related to my project. During the summer, we met weekly for group meetings and journal clubs, where we share our project progress as well as interesting papers. Being in such a scientific community also allowed me to have engaging conversations about research with other group members on a daily basis, which helped me develop my own research interest.'

Mr Jerry Ng
6688 BSc&MRes student
READ MORE
'HKU Science is the only Faculty offering an intensive major programme in Ecology and Biodiversity in Hong Kong, and this is why I am here! I am eager to learn directly from the grand masters and masters – a precious opportunity exclusive to students of this 6688 programme, to enrich my knowledge and develop my practical skills.' – Jerry Ng (6688 BSc&MRes student)

Miss Lisa Liu
BSc student
READ MORE
Summer Research Fellowship (SRF)
Lisa Liu (BSc Year 3) & Young Scientist Scheme (YSS)
Major in Mathematics
SRF with Professor Guangyue Han
My Way to be a Researcher
'My first research experience was Summer Research Fellowship (SRF) in my year one summer. With the supervision of Professor Guangyue Han, not only did I learn the basic knowledge in information theory, but I also got to know what "research" is.
Instead of computation, mathematical research is more about thinking. By searching and reading related papers, and discussing with my supervisor, I inspired and generated my own idea. Although I did not complete my original proposal at last, what I learned in the programme is much more precious, making this SRF a worthwhile experience. Via writing proposal and synopsis, searching papers, concluding others' ideas, and trying to construct my own, that summer made me feel like a real scientist and determine my goal of being a scientist in the future.
With such an idea and the courage to continue to try, I chose to do scientific research in my sophomore summer vacation. I went to UBC through a joint project with Canada. Although the project was completed online due to the epidemic situation, the friendly professors, weekly group meetings, and exchanges with the PhD students did not make me feel the distance. In this summer research period, I used some methods that I had never tried before to complete the task, learnt about machine learning, and strengthened my programming ability. With the encouragement of foreign professors, I gradually learnt how to communicate and cooperate with others.
was also fortunate to have a chance to visit Oxford University through exchange programme. Although the programme was again conducted remotely, I still learnt a lot. From an academic perspective, I took lots of courses by distinguished professors of that research fields. Every time I attended the lectures, I felt like they are not just teaching but also telling stories between them and the topics. That might be why they can be the masters as they indeed love their research, and I was greatly impressed by their passion. Moreover, through communication with teachers and classmates after class, I built up a relationship with many students in Oxford. By talking with them, I can deepen my understanding of the knowledge of different topics, and I gradually get familiar with different cultures and lifestyles. In a way, it helps me survive better in a foreign environment!
Thanks to HKU Science, I got all these valuable opportunities to learn and try to become a researcher.'

Mr Louis Yu
BSc student
READ MORE
Thanks to many things, I am selected into the Cambridge Track and I am given an offer to St. Catherine's College in University of Cambridge.
I have intended to take the major of Molecular Biology and Biotechnology at HKU, and the specialty of Genetics at Cambridge.
Why I chose the track?
The Cambridge Track is the only program offered in Hong Kong, that can offer you with 2 degrees from 2 different University in 4 years. This already sounds very attractive to me.
Apart from that, I am personally quite into western culture, having 2 years to study aboard in a World-Class university is the perfect deal for me to fully experience the culture and the community there, broadening my horizon about what's actually going on outside Hong Kong.
Mostly importantly, it's about my future. Aside from the peak recognition associated with both University, the mode of teaching and the attitude towards science and research are quite different between HKU and University of Cambridge. Being able to study in both university grants me a chance to compare and evaluate between the two, I believe that this can offer me two very distinct view point towards scientific research, in which it can give me a bigger picture of how science really is, and how people from different part of the world will see scientific research.
What I expect from the track?
Right now I am studying at HKU, I am looking forward to gaining research experience from the Summer Research Fellowship and some other research internship. These experience will be extremely valuable for me when I am doing the Final Year project at Cambridge.
For the Cambridge study, which hasn't happened yet. I am looking forward to meet all sort of talents there. I am excited to exchange ideas and thoughts with them. You know, University of Cambridge is like a cluster of talents from all over the world. I hope my logical thinking and the way I see science can be well-polished there.
My feeling towards the application process
As the sayings go with, no pains no gains. To be frank, the application process was not easy. You got forms to fill, preliminary tests to take, interviews to attend. But, remember all of these hard work is for the entry ticket to the University of Cambridge. Being able to study at HKU is not easy already, being able to study at both HKU and University of Cambridge is a priceless opportunity.
I did put a lot of effort in the application process. I have to figure out the difficult jargons in the unfamiliar UCAS application; I have to spend time reviewing high school textbooks to prepare for the preliminary tests; I have to spend time doing mock interviews to prepare for the real one. It is hard work, but the payoff is rewarding and priceless.
Most importantly, you are never alone. Your track mates will be there with you, discussing the uncertainties encountered; the faculty of science is very helpful, whenever you encountered a problem, you can always turn to the staff. The staff at Faculty of Science are very kind and helpful, their suggestion and help is always on point to help us out of the plight.
Advice for future cohorts
Be curious and confident! There might be challenges on the way, during the application, but don't be scared! For a research career, you have to always be curious and confident towards challenges! Don't be afraid to seek help from your track-mates and the teaching staff.

Ms Raina Xin
6224 BASc(AppliedAI) student
READ MORE
'Applied Artificial Intelligence (AI) is a perfect programme for me as I am interested in AI application in medicine, and am currently conducting research about building an AI classifier to perform cardiovascular disease early screening. Having a supportive community with top scholars and like-minded individuals also helps me go further; and there are also plenty of internship and research opportunities available to help us gain more experience.'

Mr Samuel Ribet
2018 MSc in Environmental Management
READ MORE
"The MSc in Environmental Management encompasses a broad range of topics thereby affording an excellent grounding in the environmental field. For this reason, as well as the University of Hong Kong's reputation for excellence, I selected this master's degree.
Completing this course has been challenging but, thanks to the challenge as well as the high level of tuition, immensely rewarding. With the knowledge and skills I have acquired and connections I have made I have the confidence to embark on a new chapter in my career incorporating the principles of sustainability into my work and engaging with experts in the fields I have been introduced to."

Mr Simba Zou
BSc student
READ MORE
'HKU Science provides a wide range of undergraduate research opportunities. As a student enthusiastic about pursuing academic research, I benefitted significantly from participating the Summer Research Fellowship programme (SRF).
Last summer, Professor Quentin Parker from the Department of Physics offered me a place in the Laboratory for Space Research in Cyberport, where I spent two months working on a topic related to observational Astronomy – so called Planetary Nebula. Specifically, my project involved accessing data from extensive astronomical databases including the globally leading HASH database set-up by Professor Parker's group.
Exposure to these research experiences greatly enhanced my problem-solving skills and my theoretical knowledge. Unlike striving for academic excellence in various courses during term-time, conducting actual research requires the ability to integrate multi-disciplinary knowledge such as programming, and to tackle real-life science problems.
As a student who had just finished the first-year study, my relevant knowledge was initially insufficient for conducting research or even understanding the content of background research papers, which was quite frustrating indeed. But after shifting my mindset, I started to devote more efforts by reading some extra reference papers and by "googling" every confusing phrase in the background papers. Perhaps that is the beauty of an early research experience, it encourages students to explore their interests and learn actively out of classrooms.
I also learnt the importance of upholding academic integrity and manual checking on published data. We should be honest to admit the insignificance from the given data, which helps subsequent researchers to rule out same idea and direct them to draw the right conclusions. I also learnt to judge what is significant to be published as from my project.
All in all, this SRF provided me with a treasurable experience and an early taste of conducting scientific research. It definitely strengthened my determination to pursue academic research in my later studies as well as reinvigorating my curiosity in Physics – the study from the fundamental building blocks of the universe, to the gigantic stars and galaxies we see upon the sky.'

Ms Wai Hang Joycelyn Tam
2018 BSc graduate
READ MORE
Major in Geology; minor in Geotechnical Engineering
Participant of regional field study entitled "Deconstructing the anatomy of the arc-continent collision system in Taiwan"
"Despite having frequently heard about hot springs and earthquakes in Taiwan from the media, this was the first time I was able to closely investigate the story behind them. As Taiwan lies in a special location — along the boundaries of two active plates, many unique rock features which are absent in Hong Kong can be found there. This experience was exciting, especially when we had the chance to look closely at a representing rock feature that I had only read about it in books yet had never seen before. This field trip has undeniably given me a valuable opportunity to integrate what I have learnt in lectures, enhancing my understanding of different geological processes. It also allowed me to learn through interactions with nature, to feel the genuine power and the beauty of our dynamic planet Earth, and provided me with knowledge beyond books."

Mr Wallace Hui
PhD student
READ MORE
'Earth Sciences at HKU cover a wide range of research aspects related to our planet and beyond, any themes from ancient Earth to planetary exploration to tectonic events to atmospheric processes, and we have access to a large array of experimental and computational infrastructures.
For my research, I work with my supervisor Dr Kono Lemke in looking at the solvation of geochemically-relevant species under volcanic and atmospheric conditions. Previously, we studied the solvation of ozone, which as we all know, is one of the most important molecules in the Earth's atmosphere. Using state-of-the-art computational methods, Dr Lemke and I established that the ozone molecules can form stable complexes with water at low temperatures. We have also found that a previously theorized ring structure of ozone can co-exist with water, and this could guide future experimental endeavors. These findings have been published in the Journal of Chemical Physics.
My research experience at HKU has been smooth due to support from Dr Lemke. Graduate research students here are always encouraged to raise questions and discuss with supervisors. My supervisor and I often discuss exciting topics in science and other aspects, new exciting research ideas often come out from these conversations.
The 24/7 round the clock high performance computing facilities by IT service department here forms the backbone of my theoretical-based research. The support team is always helpful and responsive to help resolve any IT-related issues within my research.
HKU supports students doing graduate scientific research with an abundance of resources, you will be encouraged to carry out cutting-edge research, which would equip you with important problem solving and critical thinking skills; it would be an eye-opening experience for ones with the right minds and endurance.'
---

Miss Yanran Li
PhD student
READ MORE
'Studying at HKU Science is a unique experience. The dynamic and welcoming vibe has been of tremendous help with my research in Molecular and Cell Biology at the School of Biological Sciences. I am always aspired to make breakthroughs in cutting edge science ever since I entered HKU, and I was privileged to be exposed to the state-of-the-art technology on a variety of principles.
The fascinating journey that I embarked on here at HKU Science has really broadened my horizons and given me insight into the real world of science. The Faculty stresses on the wellbeing and overall development of its fellow students and is making every effort to help them thrive and fulfil their ambitions.
For example, the Faculty has commenced a collection of activities such as orientations, safety training and workshops to facilitate newcomers of research postgraduate students to undergo a smoother transition. The Faculty also invites prestigious scholars across the globe to give lectures on relevant topics.
I am also very grateful for all the support from my supervisor Dr Aixin Yan during my research on the pathoadaptation mechanisms of nosocomial pathogen Pseudomonas aeruginosa. The conductive communications I had with my supervisor has no doubt posed a significant influence on my skill development and given me a clear vision on my research objectives. It benefits me by getting me prepared for the future research work.'

Miss Vriko Yu
PhD student
READ MORE
We have always been taught that habitat loss – a known threat to our planet and its biodiversity – occurs gradually over many years. PhD student Vriko YU used to share that belief but was alarmed to witness first-hand a patch of coral off Hoi Ha Wan Marine Park disappear in just two months. Coral reefs are the 'tropical forests of the sea', known for their rich biodiversity which provides a highly complex habitat to support whole ecosystems of fish, plants and invertebrates.
'Books have always said it takes decades for us to destroy the reef,' Vrkio recalls, 'but in reality, it can just be gone in the blink of an eye. That is when I started to think about what we can do to mitigate the impacts of climate change.'
Vriko's love for diving started in her undergraduate studies, where she likened the excitement of finding and identifying the many sea creatures to a game of Pokémon Go. 'What I like about diving is that I don't know what I would get to see, like catching Pokémon! Typically when we dive, we go to hotspots which are where corals are.' This made her realise that in order to continue conserving what we like to see underwater or foods we like to eat, first we need to rebuild the corals. 'They are the foundation,' she emphasises. This drive to protect coral reefs led Vriko to start her own social enterprise, archiREEF – an environmental social enterprise offering a one-stop solution for impact changers at corporation or government levels, or even individuals that want to be involved in making a difference.
The research project is a big success.

Virko's team revisited the site lately and saw lots of marine life around the tiles – one of the cuttlefish moms even laid eggs under the tiles!

Vriko dived into the sea and placed the reef tiles on the sea floor with her own hands. Photo credit: Victor Lau

Vriko's love for diving started in her undergraduate studies, where she likened the excitement of finding and identifying the many sea creatures to a game of Pokémon Go. '
Seamlessly blending manmade supports into nature
Vriko explains that traditional reef restoration uses more primitive materials like metal or concrete as a substrate for the coral, which does not mimic the natural environment well. To provide a better alternative, Vriko worked on producing 3D-printed reef tiles as part of her PhD research project at HKU, supervised by Dr David BAKER, Associate Professor at School of Biological Sciences. The reef tiles that mimic the surface of brain corals have seen much success.
They yielded a four times higher survivorship of local 'super-corals' – the nickname given to corals capable of growing in the harsh Hong Kong waters – as well as boasted significantly more commercial fishes and a higher biodiversity of coral-associated invertebrates on-site. Most excitingly, Vriko and her team even witnessed an apex predator making its home and laying eggs in the restored coral habitat. 'The first time I saw the female cuttlefish, it was really exciting! She was huge and looked like a spaceship, but suddenly she flattened herself to catch a prey. The second time we saw her, we thought she was sleeping but when we got closer, we realised she was laying eggs under the tiles!'
Vriko reiterates the ultimate goal of restoration is to bring entire ecosystems back to their healthy states. This one charismatic cuttlefish residing and completing her life cycle in the reef tiles is a symbol of hope that coral reefs can be restored, along with their lost biodiversity recovered.
Growing into the international arena
To further promote coral reef conservation in the region, Vriko is currently serving as a non-official member on the Country and Marine Parks Board of The Government of HKSAR, as well as the Education Committee for WWF, where she shares her expertise on conservation with other stakeholders.
Yet, the protection of coastal reefs is a concern not only locally. Neighbouring regions also have sought Hong Kong's support in this aspect. Vriko, who additionally serves as the Assistant Director and Eco Diver Instructor for Reef Check Hong Kong (RCHK), provides the necessary training alongside other volunteer instructors to ensure that their international counterparts too, are better equipped with knowledge on reefs and how to monitor their status.
For those of you who wish to follow in Vriko's footsteps with a postgraduate degree, Vriko is very satisfied with the support that HKU provides PhD students such as herself.
'I have to thank my supervisor, Dr David BAKER, for giving me the flexibility to decide what I wanted to do. It is not usual for students to have the autonomy to decide what they want to pursue, and have a supervisor fully supportive of them.' With the additional help of travel grants, she was given opportunities to attend overseas conferences, gaining invaluable experiences outside of Hong Kong. One piece of advice she hopes all students can take is to be proactive. 'In HKU, anything is accessible if you are willing to be proactive to ask. There are always channels to help!' (Article by Kengie TANG)