Winning Motto of the Best Motto Contest for HKU Science 80th Anniversary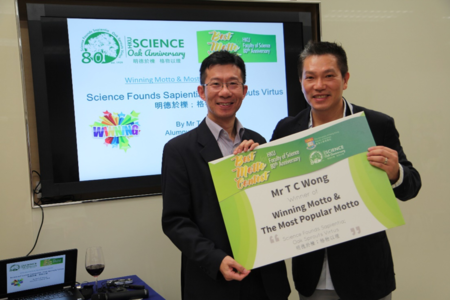 The bilingual Best Motto Contest for HKU Faculty of Science 80th Anniversary was concluded in the end of September 2017. We are pleased to announce that both the "Most Popular Motto" and "Winning Motto" for the Best Motto Contest for HKU Faculty of Science 80th Anniversary go to our Physics alumnus Mr T C Wong (class of 1986).

Mr Wong's winning motto "Science Founds Sapientia; Oak Sprouts Virtus" (明德於櫟;格物以理) endows meaning to our oak anniversary, linking the long established motto of the University "Sapientia et Virtus" and the unfailing quest for knowledge of generations of alumni in HKU Science Family. Talking about his inspiration on the motto, Mr Wong said, "The spirit of our University motto always lingers. There, I learnt symmetry. My work is to translate into English, with faithful parity, two simple Chinese verbs connecting 'Oak', 'Science' and 'HKU'."

We are impressed by the creativity of Mr Wong and are most honoured to have this winning entry as our official motto throughout our anniversary celebrations. May we again offer our congratulations to Mr Wong.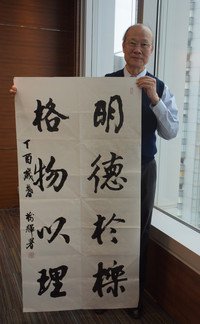 We are also honoured to have Distinguished Alumnus Dr Ambrose So scribe for us this motto. We believe the beautifully inscribed calligraphy can present the motto in graceful and aesthetic form, virtually add crucial touch to it and bring our spirit to life.
Quick Recap of the Contest
The Chinese and English motto of each submission should be of identical meaning and mirror with each other. The length of the slogan is restricted to within 10 words for English and 20 characters for Chinese version (preferentially as brief as possible).
The motto contest is open to all alumni, staff and students in HKU Science family. Each contestant can submit only ONE entry.
Criteria

Weighting

Relevancy to the anniversary theme and meaning

40%

Creativity

40%

Recall value of the motto

(simple and easy to remember)

20%
* The organizers reserve the right to interpret the selection criteria. Contestants shall agree and respect the results.
Top five entrants will be put up on the Facebook page of Faculty of Science for public voting from September 18 to 24, 2017. All winners will be informed individually by October 10, 2017
Winning slogans will receive exposure in our social media platforms and promotions for anniversary celebrations. Top five entrants will be put up on the Facebook page of Faculty of Science for public voting and they will all receive a souvenir set from the Faculty each. The contest winner selected by our Selection Panel and the most popular motto picked by netizens will receive an award certificate and department store gift vouchers valued HKD 1,000 each.
Participant can join on individual basis or in group. Each team can have up to two members.
Entries should be original and should not be issued, published or awarded in other competitions before.
The Faculty reserves the right to publish and publicize the awarded entries in any media.
The copyright of all submissions will be vested with the organizers.
The judging panel members chosen by the organizer have the final decision on the results of the contest.