The University of Hong Kong (HKU) has made a Joint Educational PhD Degree Programme with King's College London: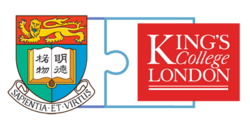 Joint PhD Degree Programme with King's College London
Programme features

Students admitted to the joint PhD programme will:

be registered as full-time students at both universities and be able to enjoy their full range of academic and various facilities;
be guided in their work by Faculty members from both universities, and be examined to the standards of both; and
normally split their time of study equally between the two universities and spend the last 6 months of study in the Home University.

Admissions

Interested applicants should first contact the Faculty concerned on available supervisors and subject areas.

Students are required to meet the entry requirements of both universities:

Applicants can apply through either university, and they are required to submit one application only. The admission decision will, however, be made jointly by both universities.

Fees, scholarships and other expenses

Joint PhD candidates will pay tuition fees to the admitting university for the whole period of candidature. Applicants applying through The University of Hong Kong can apply for Postgraduate Scholarship (PGS). In addition, a small number of University Postgraduate Fellowship (UPF) are reserved for Joint PhD students with excellent academic performance. Please click here for more information about PGS and UPF.

Students who pursue a joint PhD degree with King's in Integrative Medicine may apply for the HKU Postgraduate Fellowships in Integrative Medicine. The Fellowships, offered by the LKS Faculty of Medicine, give preference to students enrolled in the HKU-King's College London Joint PhD programme with HKU being the Home University. For enquiries about the Fellowships, please contact the Li Ka Shing Faculty of Medicine directly.

The living cost of students varies depending on different factors like duration of study, accommodation type and life style. Please click here for details.

Award of degree

Upon successful completion of the programme, a student will be conferred a PhD degree jointly awarded by HKU and KCL.