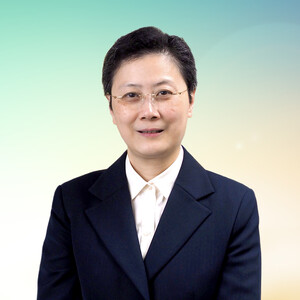 Professor Vivian W W Yam
Dean (Interim)
Faculty of Science
"Welcome to HKU Faculty of Science, one of the world's premier science faculties. Building on our achievements over the past eight decades, the Faculty has made huge strides and will continue to do so in striving for excellence, creating a global presence and regional significance, and maintaining its role in delivering impacts to the community at large."
In the pursuit of the University's vision – delivering impact through internationalisation, innovation and interdisciplinarity, the Faculty continues to nurture global scholars with excellence in research, teaching and learning, and knowledge exchange. More than 30% of our students and over 40% of our academic staff are from overseas. This creates a global network where intellectual minds meet.

Our top-notch scholars produce high quality, world-leading research where 18% of our professoriate staff are amongst the top 1% of highly cited researchers (as defined by Clarivate Analytics' Essential Science Indicators 2021). We have 3 members of the Hong Kong Academy of Sciences, 5 members of the Chinese Academy of Sciences and the same number of members of foreign Science Academies, including the US National Academy of Sciences.

We have also led 6 Areas of Excellence (AoE) projects, a State Key Laboratory in Synthetic Chemistry and have partnered with the Chinese Academy of Sciences (CAS) for 3 HKU-CAS Joint Laboratories. Regarding inventions from our Faculty alone, up to 100 patents have been issued. These accomplishments are a testament to our researchers' relentless efforts in pursuing research eminence.

In the latest Research Assessment Exercise (RAE) 2020 published in May 2021, under the Panels of Physical Sciences and Biology, we are gratified to learn that we have outperformed other local universities and achieved the highest percentage of world-leading (4*) ratings in three of the Units of Assessment (UoAs), including Chemistry, Earth Sciences and other Physical Sciences, and Mathematics and Statistics, affirming our world-leading position in the aforementioned fields [37% of all research submitted by the Faculty was judged to be world-leading (4*) by the RAE panel consisting of international leading experts]. Overall, 83% of the research submissions by HKU Science's eligible staff is rated as world-leading (4*) or internationally excellent (3*), with some disciplines even achieving over 90% or more [Chemistry 99% (sector 92%), Physics and Astronomy 95% (sector 91%), Earth Sciences and Other Physical Sciences 85% (sector 77%), Mathematics and Statistics 82% (sector 77%) and Biological sciences 62% (sector 61%)].

All of these contribute to HKU's high standing in the academic world – there are about 22,000 universities worldwide and HKU ranks 21st and 30th in the most recent rankings from Quacquarelli Symonds (QS) and Times Higher Education (THE). As a Faculty, we consistently rank high in our respective disciplines as well.

Undoubtedly, dedicated teachers inspire students. Top academics with remarkable accomplishments in frontier research further enhance learning experiences. Many of our degree programmes are accredited by professional bodies overseas – Royal Society of Biology, Royal Society of Chemistry, Society of Actuaries, Geological Society of London. To keep abreast our curriculum with the evolving needs of the society, we have launched an array of new initiatives in recent years, including our elite programme Science Master Class, intensive majors, articulation pathways to diverse programmes and a Minor in Science Entrepreneurship alongside new programmes in collaboration with other Faculties, such as Bachelor of Science and Bachelor of Laws, Bachelor of Arts and Sciences (Applied AI) and Bachelor of Arts and Sciences.

The Faculty puts no limits on pursuing research and teaching eminence. We aspire and strive to be pre-eminent in Hong Kong and the Mainland, leading in Asia and highly competitive internationally. Our determination and world-leading position have been further affirmed by the encouraging outcome of the latest RAE 2020. We believe science is the way forward to advance our society and to bring profound impacts on mankind. Finally, as you browse through our webpages, I hope that you find them informative. I recognise that electronic communication has its limits and thus warmly invite you to visit us here at HKU to connect with us directly, either as a member of the Faculty of Science or as one of its many supporters.
Professor Vivian W W Yam
Dean of Science (Interim)