Start main content
01 Feb 2021
Newsletter Spotlights - Ready to step out of boundaries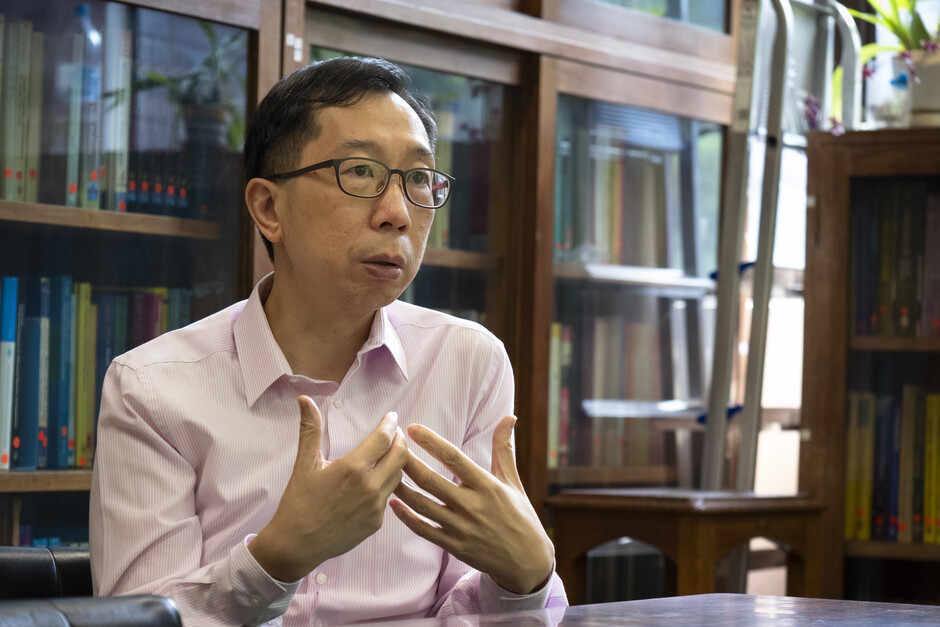 Director of Research Division of Mathematical & Statistical Science and Chair Professor of Department of Mathematics
As traditionally, we mathematicians and
statisticians are focused on individual
research problems, but now we are ready
to involve more in cross-disciplinary
collaborations.
"It's always good to be back home," said Professor Michael Kwok Po NG while leaning back in his office chair comfortably. Spending most of his time studying and working at HKU, Professor Ng left his alma mater for career developments in 2005, and it has been a year since his returning. Obtaining both his bachelor's and master's degrees from HKU, he started his research career in the Run Run Shaw Building. "It's a place which shaped me to who I am today and where we continue to nurture generations of researchers in mathematics and statistics, a place just like my second home."
Besides his strong tie to HKU, the establishment of the Faculty's Research Division of Mathematical & Statistical Science is one of the reasons prompting his rejoining of the Science family as the Division Director. If opportunity does not knock, build a door. Beyond challenges, he sees the huge opportunities that lie ahead.
As a management who steers the direction, his visions are to foster research collaborations among faculties, and to integrate the research activities of two intertwined subjects, Mathematics and Statistics, into one platform with research excellence. "This is one of my primary missions upon returning to HKU," he stated.
A mission to empower researchers
Professor Ng formulated some goal-orientated strategies which require substantial collaboration with researchers of diverse interests. "Win-win cooperation facilitates mutual benefits for collaborating parties — we have skills and expertise that help Divisions analyse a huge amount of data properly for disparate disciplines; on the other hand, we can also benefit from the findings and the process of developing new research applications. So it is all about collaboration."
Aiming at creating a thriving research environment, his first strategy is to mobilise and cross-fertilise expertise and facilitate knowledge sharing for core research areas. "Currently we have eight research groups with different interests and focus. Through fostering intellectual exchange, we strive to come up with more innovative research ideas, create more research frontiers, and be more competitive in attracting research funding."
While sharing of expertise can enhance both quality and versatility of research, networking can help apply research results into practical use and for the betterment of society. It is utmost essential that we can keep strengthening our network through research partnership and collaboration. "It is a global approach, not limited to local or regional, and beyond geographical areas, we would also like to connect the academic circle to the world of business and the community, incubate areas that demonstrate strong commercial potential and address societal needs like data science and artificial intelligence."
Interdisciplinary approach in action
Aligning with the Faculty and the University strategy, interdisciplinary approach is one of the indispensable strategies that Professor Ng is going to adopt and expand. In the past year, he has already put this into practice. A PhD student has been participating in a machine learning project for the development and validation of prognosis model of mortality risk in patients with COVID-19 with medical doctors from Union Hospital, Wuhan and Beijing Chaoyang Hospital, Beijing; some experts from the Division are collaborating with the MTR Corporation in an interdisciplinary cooperation for condition-based monitoring systems and artificial intelligence for the operation of its railway network; internal collaborations involving cross-discipline experts have been carried out through the HKU-TCL Joint Research Centre for Artificial Intelligence and Big Data Research Cluster, and more joint positions within divisions will be created to enhance these kinds of activities. "We will strive to enhance our engagement in more innovative research projects with other disciplines, in the hope of sparking more creative ideas with new attempts," said Professor Ng.
Achievements of Division members in recent years
2020 Second Prize of Hunan Natural Science Award: Professor Michael NG, Professor Wai Ki CHING and their PhD students
2019 Professor Ngai Ming MOK was elected as Fellow of the American Mathematical Society
2018 Professor Xiao Ming YUAN won the Higher Education Outstanding Scientific Research Output Awards
Professor Jeff Jianfeng YAO was named Fellow by the Institute of Mathematical Statistics
2017 Professor Ngai Ming MOK was elected as Member of Hong Kong Academy of Sciences
1994 - 2019 HKU was ranked No.2 worldwide and No.1 in Asia based on research contributions from the top 4 actuarial journals (Insurance: Mathematics and Economics, North American Actuarial Journal, ASTIN Bulletin, and Scandinavian Actuarial Journal) amongst non-business schools over a 25-year period from 1994 to 2019
Profile
2020 - Present Chairman, HKU-TCL Joint Research Centre for AI
2019 - Present Director, Big Data Research Cluster, Faculty of Science, HKU
2017 Received Feng Kang Prize of Scientific Computing and was selected as a SIAM Fellow
2014 Received HKBU President's Award for Outstanding Performance in Scholarly Work
2001 HKU Outstanding Young Researcher Award