Start main content
21 May 2023
HKU holds Inauguration Ceremony for the New Cornerstone Science Laboratory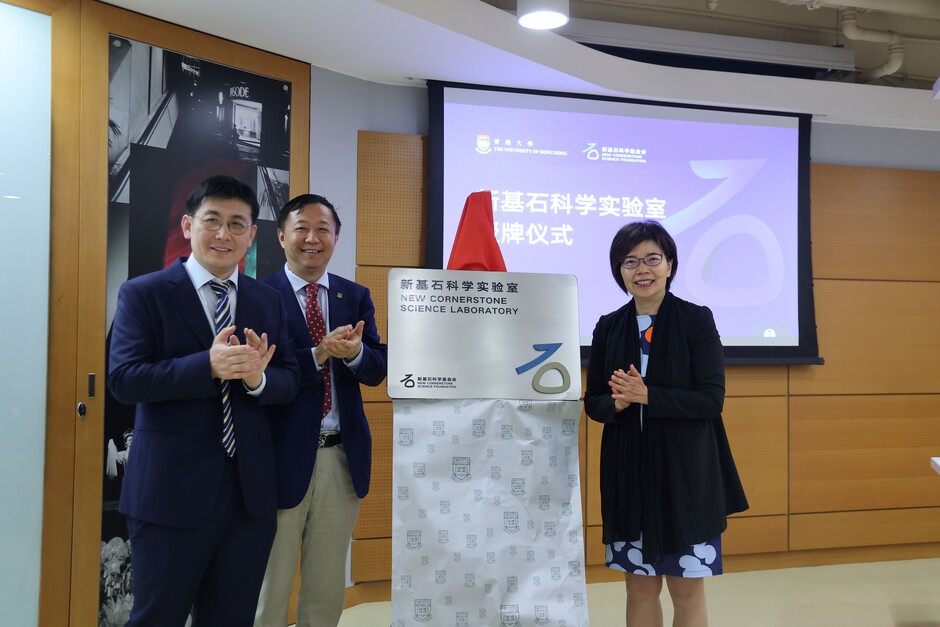 The laboratory of Professor Shuang Zhang, Chair Professor of the Department of Physics and the Department of Electrical and Electronic Engineering, the University of Hong Kong (HKU), has become the first New Cornerstone Science Laboratory ("the Laboratory") at HKU.
The Inauguration Ceremony for the Laboratory was held on May 15. Professor Peng Gong, Vice-President and Pro-Vice-Chancellor (Academic Development), and Professor Shuang Zhang, HKU; and Ms Wurong Wang, Vice President of Tencent, and Vice President and Secretary-General of the New Cornerstone Science Foundation, officiated at the ceremony.
The New Cornerstone Science Laboratory was set up by the New Cornerstone Science Foundation ("the Foundation") as a platform for launching research work and academic exchange. Tencent established the Foundation in 2022 to provide long-term support for basic research with a funding of RMB 10 billion over 10 years. The New Cornerstone Investigator Programme ("the Programme") is a non-profit and independent funding initiative which takes an innovative approach to encouraging basic research spearheaded by leading scientists. The Programme focuses on Mathematics and Physical Sciences, and Biological and Biomedical Sciences, and encourages interdisciplinary research between the two areas.
Professor Zhang has been named among the first batch of three leading scientists under the Programme. His research interests primarily focus on the topological phenomena of high-dimensional photon systems, photonic strong topological insulators, the impact of vacuum fluctuations on electronic transport in two-dimensional materials, and the realization of new electromagnetic media, such as Tellegen media, using metamaterials.
Professor Peng Gong congratulated Professor Zhang for being selected for the Programme. He said that HKU, which is 112 years' old, is a world-renowned university with the most comprehensive disciplines in Hong Kong. It is a university with disciplinary advantages and characteristics. It has accumulated long-term advantages in basic research and innovation, and has cultivated generations of outstanding talents. It is the university with the most internationalised teaching staff in China. Especially since 2018, under the leadership of HKU President Xiang Zhang, the world's top scholars have been vigorously introduced, and Professor Shuang Zhang serves as an excellent example of the outstanding scholars recruited.
A briefing session for the Programme was held right after the Inauguration Ceremony. During the session, the Secretariat of the Programme gave a comprehensive introduction on project positioning, application requirements, and application methods.