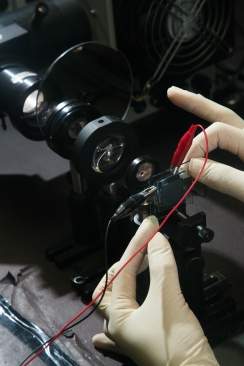 About the Major
The Major in Physics is aimed to provide students with a solid foundation in the subject. It covers a wide range of core courses which form the blocks of fundamental knowledge to learn specialisation, e.g. quantum mechanics, statistical mechanics, classical mechanics and electrodynamics. A large selection of elective courses is provided for students to pursue a wide range of topics from the very small scale (i.e. subatomic particles) to the large scale (i.e. cosmology). Students attain professional knowledge in physics, research experience and the training of analytical thinking and quantitative reasoning during their studies. Graduates are expected to have acquired the broad training which can equip them well for further studies in multiple science and technology disciplines and for work in their specialised area.
Summer Internship Programme
The Summer Internship Programme offered by the Department of Physics is designed for undergraduate students taking the Physics Major. It aims to provide opportunities for students to gain experience in applying the academic knowledge they acquired, and to widen their vision and scope of knowledge through participation in a practical working environment. During the 8-week programme, students work full-time with a supervisor at a related institution, such as world-renowned universities abroad or government institutions specialising in a particular area. This is a valuable learning opportunity for participating students who found that they have gained much more than just knowledge and practical experience. Through the programme, students have become more confident, independent, and have developed a deeper understanding in science which helps them identify the road to pursue in their future studies or career.
Career Prospects
Physics graduates are professionally qualified scientists who have also acquired extensive generic skills in problem solving, experimentation, technical writing, creative thinking, research concepts, application of IT technologies, analytical thinking and many others;
Such skills are highly sought after in many employment domains especially those that are IT or technology based and not just as scientific officers in industry or Government laboratories;
Graduates can also pursue postgraduate studies or become STEM teachers.

Student Sharing
Gabriel GALLARDO
2016 BSc graduate (major in Physics)
Participant of Overseas Research Fellowship Scheme at CERN in summer, 2015
Gabriel is now pursuing a PhD degree in Physics at Oxford University

"HKU's Science programme is wonderfully flexible. It allowed me to freely choose whatever I wanted to study. When I found what I liked and what I was good at – physics and computer science – I went for it, and the school supported me all the way. In my last year, I had the opportunity to conduct research at CERN, the largest particle physics laboratory in the world. It was life-changing experience I will never forget.
Moreover, I had a lot of time to participate in many activities outside the classroom. The various clubs and societies in HKU are great places to develop your soft skills, pursue your interests, and make lasting friends. There are even many opportunities outside HKU where the contributions of young people like myself are more than welcome.
Overall, my four years at HKU have helped me grow into a mature, well-rounded, and more open-minded person. I am truly grateful for all that I have experienced here."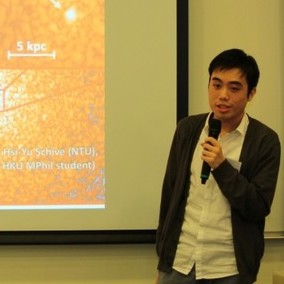 LEUNG Yi Lok Enoch
2018 MPhil graduate (Physics)
2016 BSc graduate (double major in Physics and Astronomy)
Participant of University Research Fellowship Programme in Department of Physics in summer, 2015
Best Poster and Best Presenter in Research Colloquium of Summer Research Fellowship Scheme 2014-15
Regional winner (Asia) of the Undergraduate Awards 2016 in the Mathematics & Physics Category
Enoch is now pursuing a PhD degree in Astronomy at Johns Hopkins University, USA
"I believe that nothing can possibly be more romantic than unveiling the beauty of our cosmos. Being an undergraduate physics student in HKU granted me the opportunity to undertake a series of research projects to study the nature of dark matter, which is an invisible form of matter that is crucial in governing the evolution of the universe ever since the Big Bang, as well as the formation of galaxies and stars within. Through joining the Undergraduate Research Fellowship Programme (URFP) in my fourth year, I worked closely with a visiting professor from University of Basque Country to test predictions on early galaxy formation based on a revolutionary theory of dark matter with real observations using the Hubble Space Telescope. We obtained fruitful results and shared our findings in international conference talks and also the Undergraduate Research Colloquium held by the Faculty of Science in HKU, where we received positive feedback from fellow researchers. This was definitely an irreplaceable experience that encouraged me to pursue a life-long career in research."