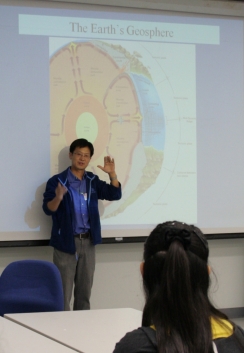 About the Major
Geology concerns the study of the structure, materials, processes and history of the Earth. Geologists are needed in many areas of work such as the geotechnical profession, resource development, and natural hazards and environmental management. Geologists use their knowledge to enrich our understanding of Earth processes and resources in order to improve the quality of human life. The University of Hong Kong is the only tertiary institution in Hong Kong to offer an undergraduate programme in Geology. The curriculum is designed to prepare students for a career as a geologist or for postgraduate studies in the geosciences.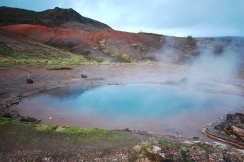 The core curriculum provides training in the core geosciences subdisciplines including physical geology, historical geology, mineralogy, petrology, sedimentology, geochemistry, geophysics, structural geology, plate tectonics and field mapping. Elective courses are offered in specialised areas such as mineral resources, hydrogeology, and engineering geology. Throughout the curriculum there is an emphasis on experiential learning through fieldwork, laboratory studies, industrial training, and research-based activities. Students in the programme attend 3-4 "overseas" field camps to learn about the geology of other countries and to produce geological maps. Previous visits were made to the USA, Cyprus, Australia, Mainland China and Taiwan.

The Geology Major (Accredited Pathway) is accredited by the Geological Society of London, the UK body which grants the professional qualification Chartered Geologist. Students completing a specific set of geology courses will receive an accredited degree which provides an accelerated route to achieving the Chartered Geologist qualification. The professional qualification Chartered Geologist is recognised internationally and in Hong Kong chartered geologists are regarded as professionally equivalent to chartered engineers.
Career Prospects
Geological knowledge is required for the construction of airports, buildings, tunnels, bridges, dams, ports, power stations, reclamations and landfills, and for dealing with natural hazards such as earthquakes and landslides. Currently, geologists are in demand worldwide to ensure essential supplies of water, oil, minerals and raw materials;
Graduates are trained to fill a variety of positions, or to undertake further specialised training programmes either in universities or through government/industry initiatives. They are competent to work in the mining industry, hydrogeology, environmental geology and the management of natural hazards;
Given the demands imposed by large-scale construction projects and the pressures for better environmental management, the need for geologists is likely to continue. In recent years, a number of our graduates have been employed by resource development and mining companies in Canada, Brazil, Australia and Mainland China;
There is a strong demand for geologists in the local geotechnical profession. Major geotechnical projects involving site formation works, foundation construction, and tunnelling and slope safety management all require people with a strong geological backgrounds.
Student Sharing
TAM Wai Hang Joycelyn
2018 BSc graduate (major in Geology, minor in Geotechnical Engineering)

"Geology is one of the most exciting majors in HKU. Being a geology undergraduate student, I have participated in wonderful overseas field trips to Wuhan, Taiwan, and the USA. These have allowed me to gain valuable hands-on experience on how geologists go about their business, and to explore the 4.5 billion-year evolutionary journey of the Earth. These include the formation of oceans and mountains, earthquakes, volcanoes, landslides, fossils, oil and gas deposits, climate change...and many more! If you are interested in natural sciences and outdoor learning, this major is one you should definitely consider. Furthermore, the post HKU options are wide and varied, be they work as a geoscientist in industry or government or as a post-graduate carrying out MPhil/PhD research."