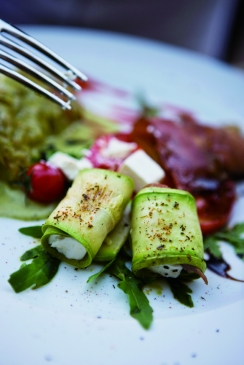 About the Major
The Major in Food and Nutritional Science aims to offer an exciting, dynamic, and challenging environment to prepare the students for career opportunities in food and nutritional science. The goals of the programme are to provide the students with: (a) critical knowledge and understanding of the theoretical and practical aspects of food science and technology, and nutrition and their relationship to human health; (b) critical knowledge and understanding on the relationship between food and a wide range of social, legal, technological and environmental factors; (c) a curriculum meeting the requirements for higher degree in MPhil and PhD and or the taught Master of Science degrees in the field of Food industry: Management and Marketing, Food Safety and Toxicology and the postgraduate diploma related to health sciences. The curriculum is designed for students to select studies in Nutrition and Public Health in preparation for postgraduate diploma in dietetics or human nutrition. Study in Food Security is an innovative programme that entails scientific and social approach in food, nutrition and environment, allowing students to relate global challenges in industry, society and government levels.
The mission is to provide a progressive and effective programme that integrates theoretical and experiential learning to better prepare students for the challenges of the workplace. Throughout the curriculum, there is consistent emphasis on experiential learning through laboratory studies, internship training, research-based learning, debate and presentations, designed to enhance the student's critical thinking, communication and collaboration, tackling of ill-defined problems, development of individual learning objectives and self-evaluation of performance. Internship experiences can be gained in medical centres, schools, industries, government and community setting. Students majoring in this programme are prepared for diverse careers in the food industry, government or private sector food and nutrition agencies, and scientific research laboratories, health-care and fitness facilities, hospitals, nutrition edition and communication enterprises.
Career Prospects
Given Hong Kong's position as an importer of raw materials, a manufacturer of food products, and a re-exporter of packaged products, plus its close connection with the fast-developing food industry in Mainland China, many graduates secure positions in local and multinational companies, government departments and laboratories;
Upon graduation, graduates have secured positions as nutritionist, quality assurance officer, research & development officer, health promoter, medical sales assistant, marketing assistant and management trainee;
Qualified graduates can pursue research studies leading either to an MPhil or PhD degree, a postgraduate diploma in dietetics, an MSc in the field of Food Industry: Management and Marketing or an MSc in Food Safety and Toxicology.
Programme Highlights
How to become a professional dietitian?
Currently, there are around 300 professional dietitians in Hong Kong, and the demand for them remains high.
A typical educational path for Hong Kong students to become a professional dietitian: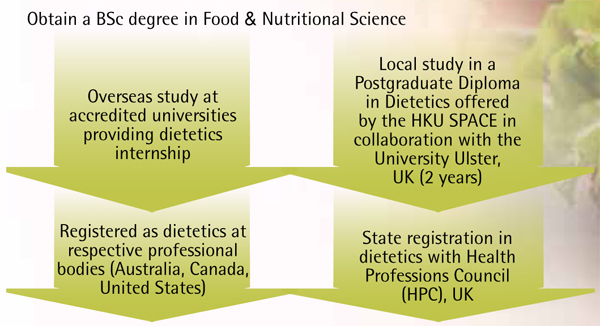 (Video) Introduction of the Major
Student Sharing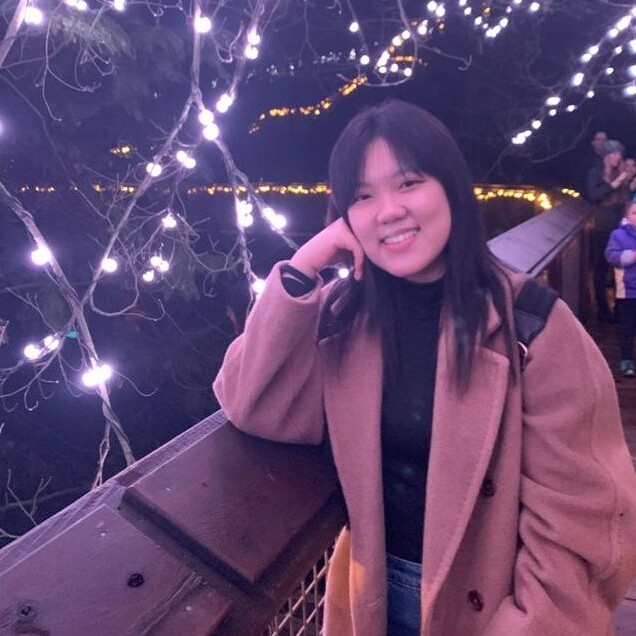 Celine KOSASIH
2021 BSc graduate (major in Food & Nutritional Science)
"The Food and Nutritional Science programme has allowed me to gain both in-depth knowledge and hands-on experiences through numerous laboratory sessions to apply the concepts learned in lectures. Furthermore, the programme provides courses focusing on various aspects of the food industry ranging from nutrition, quality control to product development. The various different courses made it easier for me to explore and decide on the aspects I am most interested in, while pursuing my future career aspiration. Moreover, the food marketing internship that I undertook as a capstone requirement in my final year has also exposed me to a possible career path. The highlight of the programme, though, is that it is filled with passionate professors who were always ready to answer my questions whether it was studies or career related. They have undoubtedly made my learning journey in FNS even more wholesome. Overall, this programme has definitely prepped me for my future endeavours within the food industry."