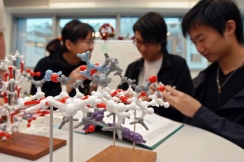 The Major in Biochemistry aims to provide students with both basic and advanced knowledge in contemporary biochemistry and molecular biology.
Core courses in the curriculum emphasise equipping students with a general understanding of the fundamental ideas, principles and theories of biochemistry with particular focus on the relevance of biochemistry, molecular biology and genomics to biology, human health and disease.
Elective courses extend this core knowledge to provide students with specialised insight into both basic and applied scientific endeavour in biochemistry, bioinformatics, molecular biology and molecular genetics.
Throughout the curriculum there is emphasis on experiential learning through laboratory practicals, problem-solving exercises, group-based learning, industrial experience, overseas exchange and research-based projects. These experiences are designed to develop students' ability to read and interpret scientific data, to integrate knowledge with wider scientific theory, and to improve logical thinking and communication skills. The ultimate goal is to provide a comprehensive degree-level biochemistry education that equips students with the critical thinking, communication and analytical skills essential to play a leading role in society in the future.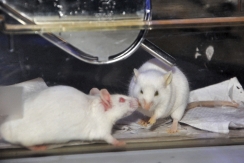 Career Prospects
Graduates take up postgraduate studies and pursue a career in advanced scientific and medical research;
Approximately a third of graduates have found employment in occupations related to science, biotechnology and healthcare;
About half of them have entered the commercial world and become business professionals;
Some other graduates have found employment in the educational sector, or have become scientific personnel in hospitals and tertiary institutions.
Student Sharing
Judy SHAO
Year 3 BSc student (double major in Biochemistry & Biological Sciences)
Participant of Young Scientist Scheme
Participant of Summer Research Fellowship Scheme, 2017 and 2018
Oxford Pembroke Junior Year Abroad Visiting Student, 2018-2019
"The Biochemistry Major comprises of overview courses as well as highly flexible electives to be selected by personal interest. I have found this structure enlightening and helps to transfer knowledge from general courses to the study of particular fields. Additionally, topics are taught by professors in the field whose unique understandings often amazes me and stimulates out-of-textbook creative thinking.
The programme also provides ample opportunities for hands-on lab experience, arranging enough resources for every student to complete their experiments on their own. This encourages full understanding of the procedures and has proven particularly helpful during my summer research project."