Start main content
22 Jun 2021
PhD Candidate from School of Biological Sciences won the Constance Boone Award for best student presentation at American Malacological Society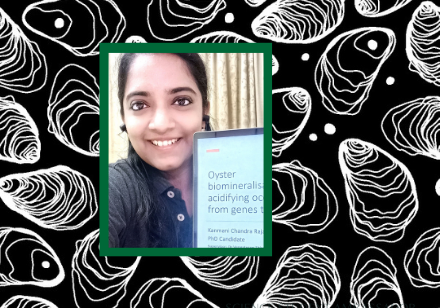 Kanmani Chandra RAJAN, a PhD Candidate Dr Thiyagarajan Vengatesen at The Swire Institute of Marine Science(SWIMS), Research Division for Ecology and Biodiversity and School of Biological Sciences, has won a Constance Boone Award for best student presentation at American Malacological Society virtual annual meeting 2021 on June 18, 2021, the presentation is mainly based on her research journal "Molecular adaptation of molluscan biomineralisation to high-CO2 oceans - The known and the unknown." and "Oyster biomineralization under ocean acidification: From genes to shell".
Students' oral and poster contributions are evaluated based on the clarity of the presentation and the abstract, scientific merit, and the student's ability to answer questions concerning the presentation.
Ms Rajan was also the winner of the "Online People's Choice Award" of the HKU Three Minute Thesis (3MT) Competition in 2020. for her thesis "How to Save Oysters from Ocean Acidification?", which gave a general overview of her PhD research, you may review her 3MT presentation from here.
The Constance Boone Award For Best Student Presentation is named for the late Constance Boone, a past president of American Malacological Society, who was also the past president of the Houston Conchological Society, co-editor of Texas Conchologist. Constance Boone was a long-time associate in the Malacology Department of the Houston Museum of Natural Science, a strong supporter of students, and was a vital force in American Malacology.