Start main content
02 Aug 2021
HKU alumna from the School of Biological Sciences won fellowship to study nutrient sharing in symbioses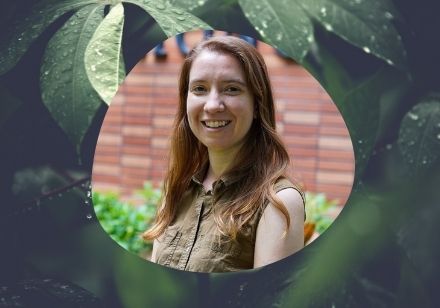 A proposed research initiated by Former PhD student Dr Inga Elizabeth Conti-Jerpe School of Biological Sciences at HKU class of 2019, was awarded a prestigious Plant Genome Postdoctoral Research Fellowship from the National Science Foundation of USA. The proposed research will investigate the traits and underpinning genetics that modulate nutrient exchange between symbiotic partners at the University of California, Berkeley.
Symbiotic relationships in which two organisms share nutrients are prevalent across the tree of life. Most plants, for example, associate with soil fungi that provide nutrients that the plant cannot assimilate independently. In exchange, the plant provides the fungi with sugars produced through photosynthesis. These mutually beneficial relationships exist in other lifeforms, including marine invertebrates (corals, jellyfish, clams, sea slugs, and flatworms) associate with algae, and lichens, which are comprised of an algae and fungus living together. By coupling their nutrition, these partners thrive in nutrient-poor environments and provide the foundation for critical ecosystems such as forests and coral reefs.
Dr Conti-Jerpe proposed to apply a new technique she developed during her PhD that uses stable isotope analysis to quantify nutrient sharing in symbioses. She will use this method to measure nutrient exchange in a diversity of marine invertebrates, plants, and lichens to determine if certain traits are adaptations for more or less sharing.
"We see the same set of traits over and over again in symbioses that evolved independently," says Dr Conti-Jerpe. "I want to understand if these traits are adaptations for varying functionality of the symbiosis."
Dr Conti-Jerpe's proposed research will take this one step further by investigating gene expression in a flexible symbiosis. "I realised that some tree species are able to form symbioses with two different types of soil fungi: those that form a sheath around the plants' roots and those that actually penetrate the root cell wall. This struck me as a great system for manipulating one functional trait of the symbiosis: how physically intertwined the two partners are."
By manipulating the fungi associated with grey alder tree seedlings and comparing genes expressed in each scenario, Dr Conti-Jerpe can identify genes involved in the establishment and maintenance of symbiotic relationships.
"I'm excited to use both stable isotope analysis and advanced genetic techniques to understand symbioses," says Dr Conti-Jerpe. "Combining these technologies has huge potential, and I'm thrilled by the opportunity to add molecular tools to my toolkit."
Click here to learn more about the NSF project Abstract.