Start main content
08 Oct 2021
Chemistry student's team wins 1st Runner Up in HSBC's AI Future Tense – Pitching InnoTech Solutions competition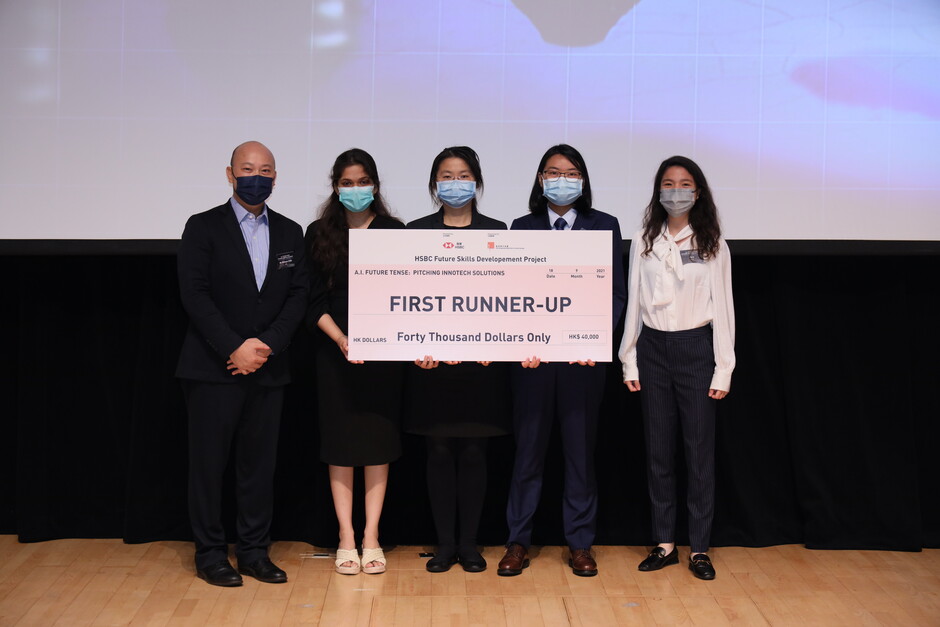 Jasmine So Yee CHEUNG, our Chemistry undergraduate and a HSBC Innovation and Technology Scholar 2020, along with her team has won 1st Runner Up in the 'AI Future Tense – Pitching InnoTech Solutions' with their proposed AI speech therapy app, named Vera. The competition organised by The Hong Kong Federation of Youth Groups (HKFYG) under the HSBC Future Skills Development Project hosted almost 60 different groups composed of tertiary students from across Hong Kong to generate impactful innotech solutions tackling social issues.

In Hong Kong, some children with speech sound disorders are unable to have timely access to the necessary diagnosis and therapy owing to financial difficulties and long-waiting times for government-subsidised services. Moreover, limited treatment tools and difficulties in tracking patient's progress pose their share of challenges to local speech therapists.

In order to fill these gaps in children speech therapy, Jasmine and her team plan to develop an app, Vera, which provides an affordable and convenient diagnosis along with personalised treatment for 3- to 8-year-olds with speech sound disorders. Combining deep learning algorithms and AI technology, Vera systematically diagnoses and assigns suitable pronunciation exercises in the form of interactive games. The app also automatically records the treatment progress to facilitate effective professional follow-ups by speech therapists.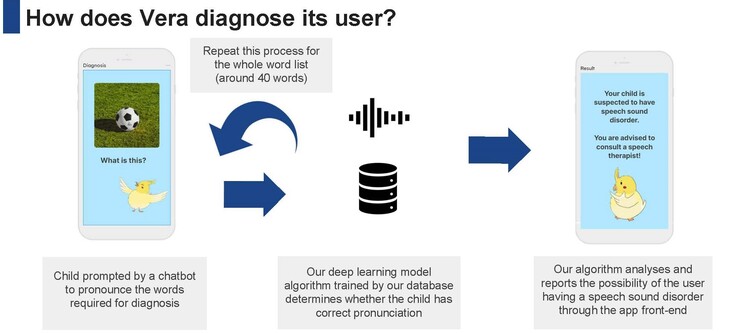 Diagram of Vera's proposed in-app diagnosis process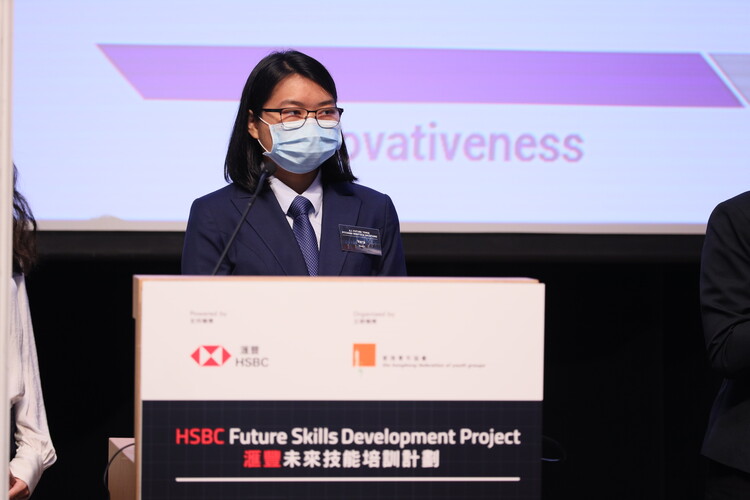 Jasmine presenting her team's final pitch at the competition
Jasmine, the team leader of Vera and a Chemistry Major student, was inspired onto her journey of science entrepreneurship after understanding the importance of interdisciplinary partnerships and reading about the cutting-edge, frontier developments in the AI field. Following her nomination by the Department of Chemistry to join HKU's InnoHub, she reached out to peers from various disciplines and together polished their start-up idea through joining and subsequently winning multiple competitions.

"The international environment at HKU allowed me to communicate with and learn from people from all walks of life. It serves as a good platform for start-ups, encouraging students to combine research with entrepreneurship," remarked Jasmine. The plethora of incubation opportunities available at the University, including at iDendron and Tam Wing Fan Innovation Wing, as well as the helpful guidance offered readily by both professors and experienced, fellow seniors was of great support on her journey.

Currently doing a visiting year at the University of Cambridge, she hopes to apply both the technical and soft skills learnt from this experience, spanning from communication and collaboration techniques to AI machine learning, into her future career in academia. "My advice for aspiring students is to not be afraid of trying new things and stepping outside of their comfort zone. I wish this example to be an inspiration for them to actively reach out and learn from people of different academic backgrounds," she said.