Start main content
18 Jan 2023
AFCD and SWIMS Enhance Collaboration in Managing and Disseminating Biodiversity Data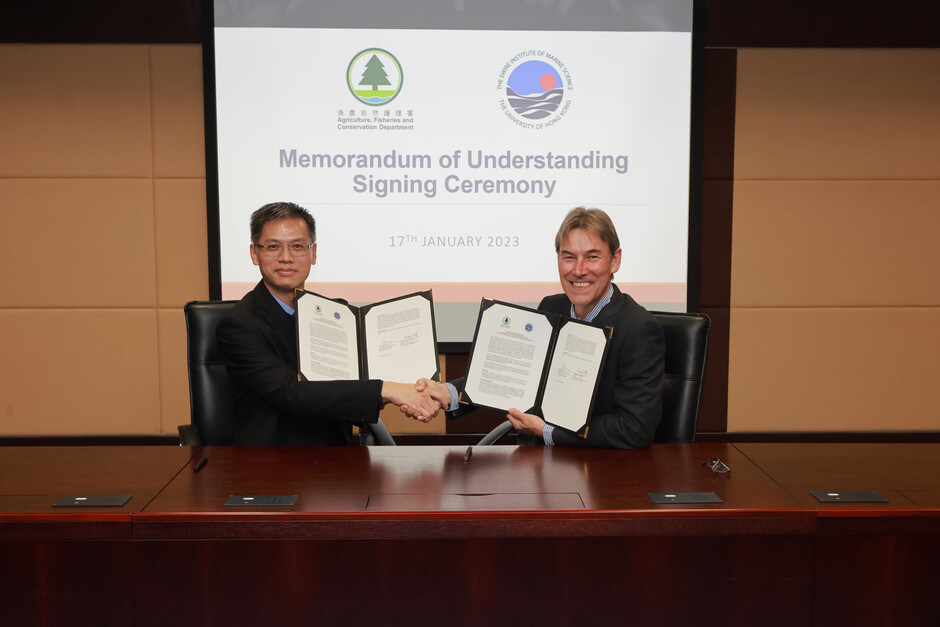 ​The Agriculture, Fisheries and Conservation Department (AFCD) and The Swire Institute of Marine Science (SWIMS) of The University of Hong Kong entered into a Memorandum of Understanding (MoU) for enhanced collaboration in managing and disseminating marine biodiversity data.
The AFCD launched the HKBIH in March 2022 to provide a one-stop shop for information on local biodiversity. The forthcoming Biodiversity Geographic Information System (BGIS), which is expected to be launched in 2024 as part and parcel of the Hong Kong Biodiversity Information Hub (HKBIH), will facilitate the sharing of spatial data of local species. The AFCD and SWIMS endeavour to make the HKBIH a more comprehensive data repository to foster a better understanding and conservation of Hong Kong's wealth of biodiversity.
Information sharing is an important foundation of biodiversity conservation. Simon Chan, the Assistant Director (Conservation) at AFCD said the department will co-operate with SWIMS to share a vast amount of spatial data of local marine species with the public, via the BGIS of HKBIH.
One of SWIMS' main research directions is to continue building an up-to-date inventory of Hong Kong's rich marine biodiversity. The Director of SWIMS, Professor Gray WILLIAMS, said he is delighted to collaborate with the AFCD to disseminate the information for public education and conservation initiatives.
Click here to learn more about HKBIH.
Click here to learn more about SWIMS.