Start main content
11 Oct 2021
Using AI to make a smart use of renewable energy - The Hong Kong Quantum AI Lab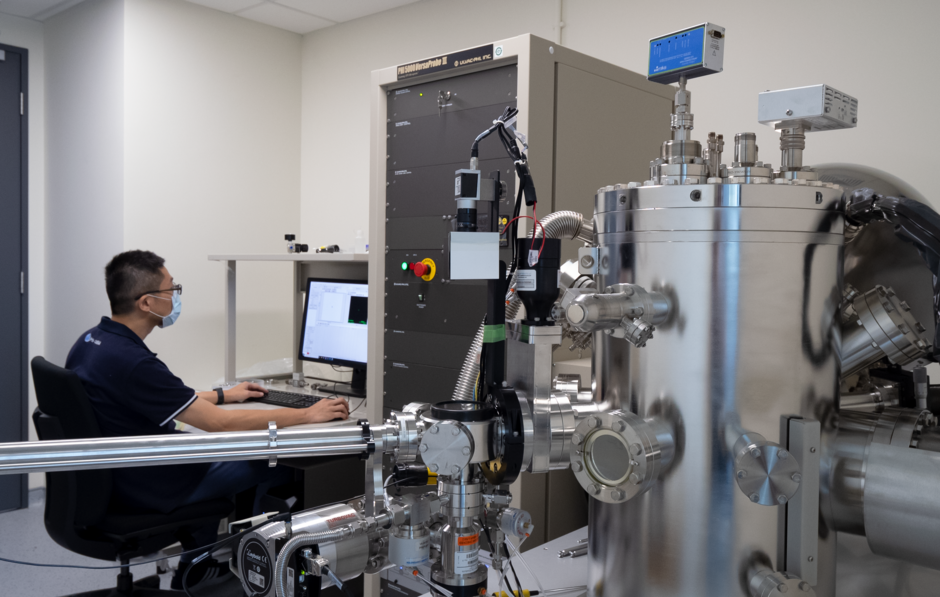 Scientists at The University of Hong Kong and California Institute of Technology have joined forces in using artificial intelligence to widen the use of renewable energy and create new-generation materials for organic light emitting diode (OLED).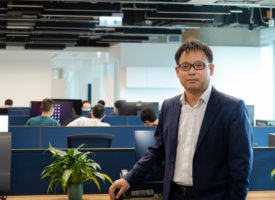 The Hong Kong Quantum AI Lab, also known as The Centre of Machine Learning for Energy Materials and Devices, is a multi-disciplinary programme which combines big data/ machine learning, computational science and experiment calibration to discover new energy materials and devices, in particular, organic light-emitting diode and solid-state lithium ion battery. Professor Guanhua CHEN from HKU Department of Chemistry is the Lead Principal Investigator. It has been admitted to AIR@InnoHK programme launched by Innovation and Technology Commission (ITC), HKSAR over a five-year period and a lab space of 12,000 sq.ft. in Hong Kong Science Park. It aims at developing a computational platform integrating AI, computational science and experimental data to discover new materials.

"The immediate goal is to develop via the platform the next generation of materials for blue OLED, and solid-state lithium battery," says Director of the Centre, Professor Guanhua Chen. "Replicating the success of electronic design automation (EDA) in microelectronics, the platform will be able to predict the precise properties of the materials used in lithium-ion battery and blue OLED," added Professor Chen, who now splits his time between HKU campus and the Centre at the Hong Kong Science Park.

As a computational chemist, Professor Chen is happy to see the five-year funding support under InnoHK, a major initiative of the Hong Kong Special Administrative Region Government to develop Hong Kong as the hub for global research collaboration. "The Centre is poised to accelerate the discovery and application of next-generation materials for OLED and solid-state lithium battery with data science, and establish Hong Kong as a global hub of materials science research, development and commercialisation."

It has been his longstanding goal to design molecule materials on computers. And working with data scientists helps fill the gap in the discovery of next-generation materials.

"Since the 1960s, much progress has been made in computational science. However, to design materials on computer, computational accuracy and efficiency need to be further improved. AI can help fill the gap. Deep learning requires a massive amount of data, and yet, experimental data is expensive to obtain. Is it possible that we use a limited amount of experimental data? The platform that the centre is building is to resolve this problem.

Drawing on the strength of Caltech, Professor Chen's team has Zoom meetings with scientists from the institute every two weeks. He is optimistic that the Centre would be able to achieve a breakthrough in a few years' time.

The imminent task now is to set up the platform for screening 'all sorts of materials'. Professor Chen hopes their effort will lead to the discovery of blue OLED materials with improved efficiency and life span. "We already understand the mechanism behind OLED, and so far people have been mostly searching based on their intuitions. What we will do is to carry out more systematic research, working back and forth with experimentalists, trying to come up with new molecules and going back to the lab to verify. This process has to go back and forth many times until a model is established."

Another central mission of the Centre is to develop a solid-state lithium-ion battery that can allow for safer, higher energy density power storage – described by Professor Chen as a missing link of the third energy revolution.

"The liquid lithium-ion battery currently used is not safe for massive storage. We are using a new approach. I strongly believe that computational scientists working with data scientists and experimentalists can finally solve the problem."

The reason for his high hopes is that he is one of the first scientists in the world to introduce AI into quantum chemistry. The Centre, he says, is in an advantaged, unique position with its computational platform and AI, and sufficient support not seen anywhere else.
"I am very excited about this opportunity," he noted.

On the other hand, his Centre is ready to tap industrial expertise. It has forged alliances with major companies, including Guangdong Algaia Optoelectronic Materials and TCL Corporation to facilitate knowledge transfer, commercialisation of patents and provide early investments for its spin-offs, it has teamed up with the Hong Kong X-Tech Startup Platform.

Professor Chen acknowledges fresh insights have been brought by communicating with the industry and understanding the challenges they face. "For the past year, I have spent much effort to understand what they want. The problems we see may not be directly relevant to the industry. We academics have very nice tools, methodologies, and yet we have to modify our research according to the needs of the industry."