Start main content
Role of Statistics in Health Sciences – Statistics & Actuarial Science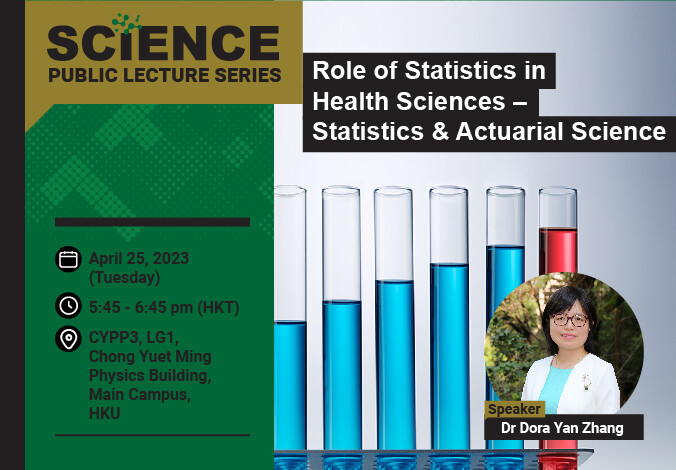 Date & Time

April 25, 2023 (Tuesday) | 5:45 - 6:45pm (HKT)
Venue

CYPP3, LG1, Chong Yuet Ming Physics Building, Main Campus, HKU ( Map )
Speaker

Dr Dora Yan ZHANG
Assistant Professor in the Department of Statistics & Actuarial Science at HKU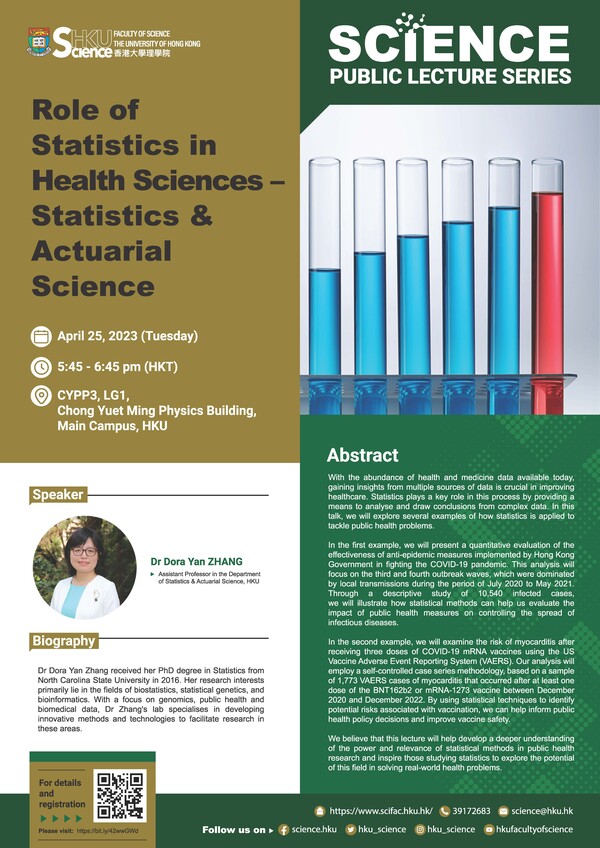 With the abundance of health and medicine data available today, gaining insights from multiple sources of data is crucial in improving healthcare. Statistics plays a key role in this process by providing a means to analyse and draw conclusions from complex data. In this talk, we will explore several examples of how statistics is applied to tackle public health problems.
In the first example, we will present a quantitative evaluation of the effectiveness of anti-epidemic measures implemented by Hong Kong Government in fighting the COVID-19 pandemic. This analysis will focus on the third and fourth outbreak waves, which were dominated by local transmissions during the period of July 2020 to May 2021. Through a descriptive study of 10,540 infected cases, we will illustrate how statistical methods can help us evaluate the impact of public health measures on controlling the spread of infectious diseases.
In the second example, we will examine the risk of myocarditis after receiving three doses of COVID-19 mRNA vaccines using the US Vaccine Adverse Event Reporting System (VAERS). Our analysis will employ a self-controlled case series methodology, based on a sample of 1,773 VAERS cases of myocarditis that occurred after at least one dose of the BNT162b2 or mRNA-1273 vaccine between December 2020 and December 2022. By using statistical techniques to identify potential risks associated with vaccination, we can help inform public health policy decisions and improve vaccine safety.
We believe that this lecture will help develop a deeper understanding of the power and relevance of statistical methods in public health research and inspire those studying statistics to explore the potential of this field in solving real-world health problems.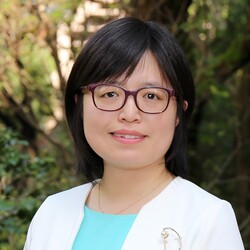 Speaker

Dr Dora Yan ZHANG
Assistant Professor in the Department of Statistics & Actuarial Science at HKU
Dr Dora Zhang received her PhD degree in Statistics from North Carolina State University in 2016. Her research interests primarily lie in the fields of biostatistics, statistical genetics, and bioinformatics. With a focus on genomics, public health, and biomedical data, Dr Zhang's lab specialises in developing innovative methods and technologies to facilitate research in these areas.
You may also be interested in