Start main content
FACULTY AWARD
Excellent Teaching Assistant Award 2021-22
'Inspire in others the desire to learn.'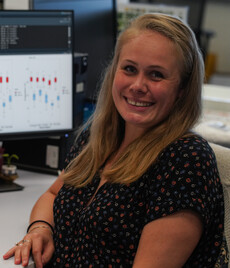 Miss Hannah Bethany TILLEY received her Master degree in Biodiversity, Ecology and Conservation from University College London (UCL) before joining HKU in 2017 as a Research Assistant. Her current research focuses on elephant behaviour, including their food preferences and how they make decisions on what to eat based on their different senses (e.g. sight, smell).
In 2020, she started her PhD at the School of Biological Sciences and became a postgraduate teaching assistant. Hannah seeks to provide a supportive teaching environment where students feel able to ask questions and problem-solve in an open and collaborative way. She wishes to continue to aid students in applying new knowledge to complex scenarios, and use skills learnt in their degrees to benefit the environment. She hopes to continue to hone her teaching and communication skills throughout her demonstrating duties so that she may pursue a lectureship position in the future.
As a PhD student in the School, Hannah has demonstrated on various courses, from urban ecology to environmental field courses, educating undergraduates on plant taxonomy and how animals have adapted to their environments. She has recently completed her Associate Fellowship in Higher Education (Advance HE) qualification and, in her free time, works as a consultant for the Centre of Applied English Studies, helping students with their written assignments.