Start main content
FACULTY AWARD
Excellent Teaching Assistant Award 2020-21
"Teachers are not the ones who teach lessons. They are the ones who teach you how to think and aim."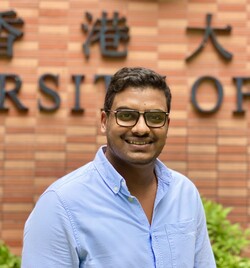 Under the supervision of Professor Billy K C CHOW, Mr Abdullah SHAIK is a doctoral candidate at the School of Biological Sciences. His current research involves the drug safety and biological effects of a novel class of anti-hypertensive compounds on animal models.

Abdullah received his master's in Biotechnology from Vellore Institute of Technology, India. During his study, he has participated in the International Laboratory course and summer school on 'Research and Sustainability' held at Gottfried Wilhelm Leibniz University, Germany as well as had experience working as a research assistant at the University of Coimbra, Portugal.

As a research postgraduate, Abdullah has been actively involved in the demonstrations for the BIOL2103 Biological Sciences Laboratory Course and BIOL3401 Molecular Biology offered to undergraduates for the past 3 years. His primary responsibility is to teach students and demonstrate to them hands-on experimental techniques so that they can master the ability to perform experiments on their own. Taking this teaching opportunity and making use of all his earlier trainings, he effectively provided an environment in which the teacher-student relationship as well as students' learning experiences were enhanced.

With a genuine love for teaching, Abdullah believes that his main objective is to create an excellent learning environment because teaching is not only about the passing of knowledge but also about self-learning. He takes time to get to know each of his students personally in order to make them feel comfortable and help them learn at their own pace. Ultimately, he hopes to empower students with theoretical and practical knowledge which will eventually stimulate and aspire them to start their own careers in science.