Start main content
FACULTY AWARD
Excellent Teaching Assistant Award 2017-18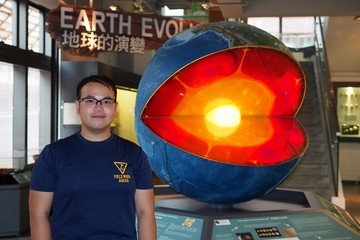 Mr Ting Yu CHAN
MPhil Student, Department of Earth Sciences
"Teaching is not just to teach, but to motivate students to learn, inspire them and unlock their potentials."
Mr Chan received his BSc degree in Geology and Earth System Science at The University of Hong Kong, and continued his study in Economic Geology under the supervision of Professor Mei-Fu Zhou at the Department of Earth Sciences.
In the course "Geological Heritage of Hong Kong", Mr Chan has the chance to get in touch with students with no background in Earth Sciences, which is a challenge for him. To tackle with this and more importantly to help those students, Mr Chan has initiated to hold extra "museum sessions" in the Stephen Hui Geological Museum, so students could better understand the relevant concepts through active discussion and with the help of exhibits in the museum. In spite of his daily teaching duties such as arranging and leading field excursions, preparing course materials and collaborating with the lecturers to improve the lectures, Mr Chan is very glad to take up the challenge and witness the improvement of students.
Mr Chan also has opportunities to extend his teaching beyond HKU members by being appointed as a tour guide at Stephen Hui Geological Museum. In the tours he shares the amazing evolutionary history of our planet with primary and secondary school students and the general public. Mr Chan has strived to tailor-make each tour for visitors with a wide range of background and need, yet they all share a common feature — full of questions. Mr Chan aspires to encourage visitors especially young students to question on some everyday phenomena, in order to inspire their curiosity. He considers this as a nurturing process of next-generation scientists, and hopes to see these familiar faces entering the Science community in the future.

Mr Chan Ting Yu
Department of Earth Sciences