Start main content
FACULTY AWARD
Excellent Teaching Assistant Award 2012-13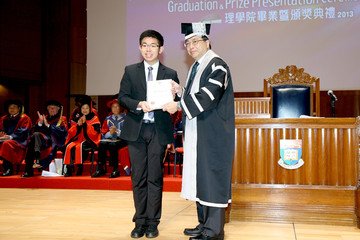 Mr Wong Tsun Yu Jeff
MPhil student of Department of Statistics and Actuarial Science
Mr Wong, supervised by by Dr Eric Cheung of Department of Statistics and Actuarial Science, received Faculty Excellent Teaching Assistant Award 2012-13, for his contributions in outstanding performance in providing teaching support and interaction with students.
Mr Wong possesses a rich teaching experience in the field of actuarial science. His teaching contributes to both undergraduate and postgraduate courses. Focused on the development of high order thinking of students, Mr Wong's teaching pays much emphasis on consolidating knowledge and developing critical mind. Together with his lively teaching style and lucid explanation, students always find his lesson inspiring and useful. Apart from regular teaching, he also devotes time in reaching students outside classroom, listening to their needs and giving them invaluable advices.
Mr Wong's class is of high popularity. It is not uncommon to hear impressive feedback from students concerning his efforts in teaching. In recognition of his dedication to teaching, he is once awarded the Best Teaching Assistant Award from his home department.