Start main content
UNIVERSITY AWARD
Knowledge Exchange Excellence Award 2020
'Reduction of Illegal Global Wildlife Trade through Novel Conservation Forensics Research'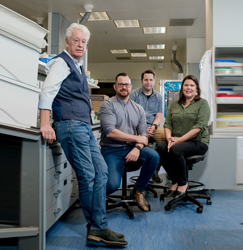 A team of ecologists from Conservation Forensics Laboratory, Research Division for Ecology & Biodiversity and the School of Biological Sciences including Dr Caroline Elise DINGLE, Dr David Michael BAKER, Dr Timothy Carlton BONEBRAKE and Professor David DUDGEON, has recently been awarded the university-level Knowledge Exchange(KE) Excellence Award 2020, in recognition of their outstanding accomplishments in their KE project entitled "Reduction of Illegal Global Wildlife Trade through Novel Conservation Forensics Research".
Wildlife trade poses a growing threat to the survival of many species. Although some wildlife products are traded legally, many are not. Illegal wildlife trade is the fourth most lucrative organised activity, worth billions of US dollars annually. As global demand increases for illegally harvested and traded wildlife products, endangered species are pushed closer towards extinction. Situated in the heart of Asia, Hong Kong acts as an important trading hub in the wildlife trafficking network.
The School's research on wildlife trade has involved decades of multidisciplinary work. The team's conservation research supports efforts by governments and NGOs to increase enforcement of national and international laws protecting endangered species and supporting illegal wildlife trade reduction. Conservation actions stemming from their research resulted in increased protection of turtles, pangolins and fish under the Convention on International Trade in Endangered Species of Wild Fauna and Flora (CITES) and via the International Union for Conservation of Nature (IUCN). The team is also developing new forensics techniques to further help fight wildlife crime and support successful prosecutions.
The KE Excellence Award of HKU was set up to encourage more colleagues and students in the University to join the ranks in the quest of deepening KE.