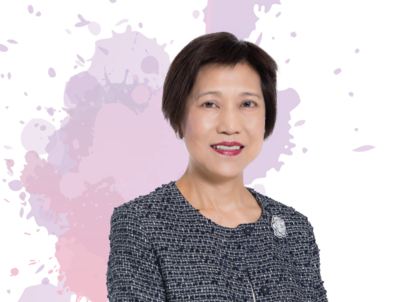 1980 BSc graduate

It is easy in the world to live after the world's opinions; it is easy in solitude to live after your own; but the great man is he who in the midst of the crowd keeps with perfect sweetness the independence of solitude." – Ralph Waldo Emerson
Affiliations
Principal of St Paul's Co-educational College (2004 – 2017)
Supervisor of St Paul's Co-educational College Primary School (2004 – 2017)
Principal of Sheng Kung Hui Bishop Mok Sau Tseng Secondary School (1993 – 2004)
Supervisor of Sheng Kung Hui Kindergarten (2004 – present)
Chairman of Task Force on Review of School Curriculum
Founding Chairman of Hong Kong Principals' Institute
Council Member and Honorary Fellow of The Education University of Hong Kong
Member of Board of Governors of Centennial College, The University of Hong Kong
Member of ICAC Complaints Committee
Member of Independent Police Complaints Council
Biography
After obtaining her BSc degree, Dr Anissa Lai-Kuen CHAN WONG received her Postgraduate Diploma in Education in 1982 from HKU, Master Degree in Education in 1985 from Institute of Education, London University and PhD in Education from Monash University, Australia, in 1993.
Responding to the need for increased support for the professional and leadership development of school principals in Hong Kong, Dr CHAN took the lead to establish the not-for-profit, self-funded Hong Kong Principals' Institute (HKPI) in 2012 to nurture and develop new and serving principals.
In 2017, Dr CHAN was commissioned by the HKSAR Government to chair the Task Force on Review of School Curriculum to provide directional recommendations on catering for students' diversity, whole-person development, articulation of learning at the primary and secondary levels, and enhancement of students' capacity to meet with future challenges, and values education. Dr CHAN emphasises on all-round development and character building to nurture students to be compassionate and responsible global citizens able to lead purposeful lives and make meaningful contributions to their society.