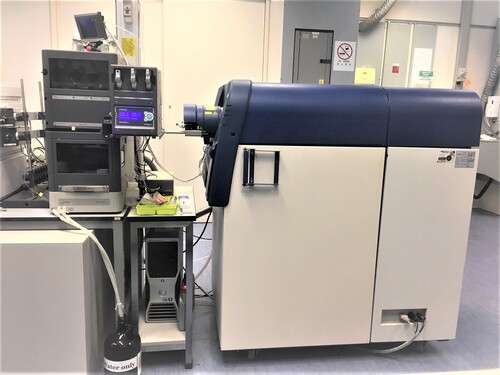 Brand:
(Nano-LC) eksigent / (TripleTOF) AB Sciex

Model:
(Nano-LC) nanoLC-as-2 / (TripleTOF) 5600
The combination of ekisigent nanoLC-as-2 and AB Sciex 5600 TripleTOF system is Nano-Liquid chromatography–triple quadrupole time-of-flight mass spectrometry (Nano-LC/TripleTOF) system. It combines highest-sensitivity detection, high resolution with the fastest acquisition speeds, and stable mass accuracy over days of acquisition. It provides excellent sensitivity, superior dynamic range, and reliability across a range of identification and quantitation applications.
Applications:
Molecular weight determination

Protein profiling

Protein identification

Quantification of peptides and proteins
Contact:
Ms. Apple Chu​
Booking Access:
By email to applechu@hku.hk