Start main content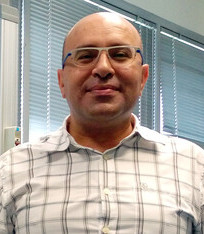 Dr. EL-NEZAMI, Hani
Associate Director (Molecular & Cell Biology Research groups & School Administration) and Associate Professor, School of Biological Sciences, Faculty of Science, HKU
BSc (Alexandria University, Egypt) MAppSc; PhD (RMIT-University, Australia)
---
[javascript protected email address]

2299 0835
2299 0836
KBSB 5S13
Teaching Areas
BIOL3203 Food Microbiology
BIOL3207 Food and Nutritional Toxicology
Exchange programme with University of Eastern Finland, Kuopio, Finland
Master of Science in Food Safety and Toxicology
Research Interests
Food safety and toxicology with special focus on natural carcinogens
Transplacental transfer of toxins and disease development later in life
Probiotics and the prevention of liver and metabolic syndrome diseases
The food safety and gut health (FSGH) concept spans from evaluating the toxicological safety of foods to the interactions of food, the digestive system and the physiological and immunological status of the host. In that aspect, the gut is an important physical, chemical and immunological barrier to foreign antigens and pathogens. The integrity of this critical barrier is crucial in the maintenance of gut health and protection of underlying tissues.
FSGH aims to provide fundamental insights into the interactions between food (both beneficial and harmful components including pathogenic bacteria), and the gut and how such interrelationship contributes to disease development and prevention. The FSGH strives to develop novel intervention strategies that will lead to the efficient management of gut related diseases.
Current Research
Modulation of gut health parameters by probiotics and bioactive components in food. In this theme we are aiming to elucidate and define the effects and the underlying molecular mechanisms responsible for modulation of parameters related to gut health following exposure to food components (both harmful and beneficial)
Management of Non-Alcoholic Fatty Liver Disease (NAFLD) in young mice exposed to high fat diet by the use of probiotic and prebiotic. This study investigates manipulation of intestinal microflora linked to obesity, through long term exposure to western style diet, use of probiotic Lactobacillus rhamnosus GG and prebiotic oat bran with high content of fibre and beta glucan. Individual as well as combined effects are being investigated with a special focus on microbiome population changes, inflammatory responses and fat and cholesterol metabolism, linked to NAFLD development.
Protective effect of dietary beta-glucan on intestinal inflammation In this theme we are aiming to evaluate therapeutic effect of different beta-glucans on intestinal inflammation and to elucidate possible underlying mechanisms involved for such effect

.
Research Team
postdoc: Dr. LEUNG Kin Sum, Sam
current PhD students: 7
Miss POON Wing-lam Vivian

Miss SO Sik-yu Stephanie

Ms Zuzanna KUNDI

Miss LO Kwun-kwan Emily

Mr Chen Jiarui

Miss WANG Shuyuan, Sharon

Miss Co Vanessa Anna
Fellowships
Academy of Finland Fellowship
an adjunct Professor post at the University of Turku, Finland, and Misr University for Science and Technology, Egypt.
the Assistant Coordinator of consortium (9 EU countries plus China and Hong Kong) funded by the European Union aiming at the modernization of Traditional Chinese Medicine.
an active member of the Finnish Society of Toxicology, Eurotox, and the American Society of Microbiology
consultants for several firms in Finland and Egypt
Publications and News
Nikkei Asia Review Battling Asia's liver cancer scourge (Jan 2016) (https://asia.nikkei.com/Business/Science/Battling-Asia-s-liver-cancer-scourge)
Awards and Honours
2017 University of Hong Kong Research output prize
2015 European Registered Toxicologist
2009 Adjunct Professor, State Key Lab of Food Science and Technology at Jiangnan University, China
2005 Academy of Finland, Health Council. The prestigious Academy Fellow award for the period 2005-2010