Miss Ka Yi LEUNG
• BSc student (major in Biochemistry, minor in Molecular Biology & Biotechnology)
• Summer intern at Advanced Technology Section of Identification Bureau, Hong Kong Police Force in 2018
• Summer student research assistant at Department of Chemistry of HKU in 2017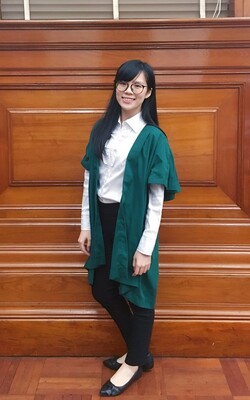 "Unfolding the mystery of fingerprints in forensic lab is genuinely a valuable experience to me, making me know that my efforts could also make an impact to society."
"Working as an intern at Advanced Technology Section (ATS) of Identification Bureau definitely added colours for my summer in 2018! What inspired me to give it a try for this internship was actually a Common Core Course about forensic science. The use of vital tool and practices in the search for the truth allowed me to detect fingerprints, shoeprints and to analyse blood stain pattern. Such hands-on experience at a real forensic laboratory deepened my interest in the area.
My responsibility for the internship was to compare different fingerprint detection techniques with validated research findings, of which the outputs might shed light on developing the most ideal detection method for the associated party to adapt as daily practice in the future. I was grateful to be a part of the team and contributed to the project with my scientific knowledge and laboratory skills learnt at HKU.
There was much to learn from this internship — it was splendid to learn using forensic light sources and taking professional photographs of fingerprints, whereas the most challenging part was to manage a huge sample size for experiments under a tight schedule. As saying goes 'pressure makes diamonds', the stress I faced did make me stronger. I still remember the satisfaction of getting tasks done successfully and the compliments from my supervisors — all gave me a strong sense of accomplishment."