Start main content
28 Apr 2023
Science Students Won Gold Medal in Prestigious International iGEM Competition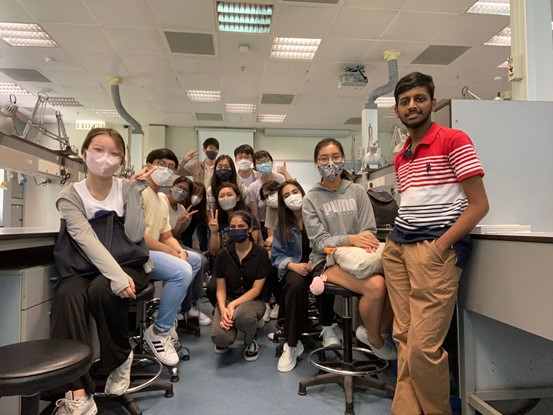 A team led by HKU Science students won a gold medal in the International Genetically Engineered Machine (iGEM) Competition Grand Jamboree 2022.
The iGEM competition requires teams to use synthetic biology to develop projects and solutions to current world problems, and the team's project, called 'AMPed,' focuses on using microalgae to produce a specific antimicrobial peptide, Cecropin B, to address the problem of antibiotic resistance.
The overuse of antibiotics has caused antibiotic resistance, and Antimicrobial Peptides (AMPs) are a more effective and efficient solution to fight against these pathogens. AMPs have broad-spectrum antimicrobial activities and do not cause resistance due to their low specificity. Microalgae are an ideal chassis to optimise the production of AMPs due to their low susceptibility to AMPs and the ability to sustain themselves.
The team's success in areas such as wet lab work, science communication, and education earned them a gold medal, making it their third in HKU iGEM history.
Team Captains:
School of Biological Sciences, Faculty of Science: Vicera Christian Nelson TEJEDOR and Rita Xin Yue LIM
Team members:
School of Biological Sciences, Faculty of Science: Jegadishwar Ananda NATARAJAN, Clara Yuen Yi PUN, Louis Pak Hei YU, Kirndeep KAUR, Eugenia King Hin FONG, Sarah KHAN, Faye Feifei LONG, Kazi Sunanas UTSHA,
Department of Physics, Faculty of Science: Vismaya Rajeev PILLAI
Department of Mathematics, Faculty of Science: Sathya Geetha BALAJI
School of Biomedical Sciences, LKS Faculty of Medicine: Sneha BALASUBRAMANIAN, Tanvi FALODIYA
Biomedical Engineering, Faculty of Engineering Angel Ka Hang NG
Team supervisor:
Dr Juan Diego GAITÁN-ESPITIA of the School of Biological Sciences, Faculty of Science
Dr Edmund Tse of Department of Chemistry, Faculty of Science
Dr Amy Tan of the Faculty of Engineering