Start main content
02 May 2023
From Classroom to Conference room: Student Delegation Driving Climate Action at COP27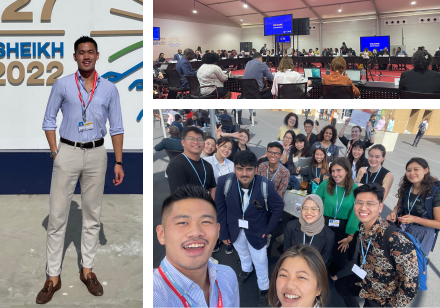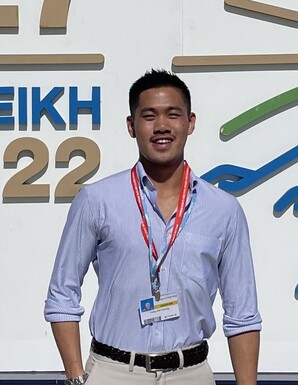 Mark Kong Wai CHEUNG
. A fourth-year student majoring in the Environmental Science
. Co-Founder of Network of Environmental Student Societies (NESS)
. Member of the UN Asia Pacific Youth Advisory Group on Environmental and Climate Justice
I was proud to see youth's ideas were taken into consideration and would make a difference in the wider context of the Global Goal on Adaptation.
The world is grappling with a critical challenge in the form of climate change, and the future generations will bear its brunt. However, instead of feeling defeated, a group of students from HKU has taken up the mantle of climate action, and is leading the charge towards a more sustainable and just future.
Mark CHEUNG, a fourth-year student from the School of Biological Sciences, and the leader among the student delegation, is making a remarkable impact through his unwavering efforts to promote climate justice at the Conference of the Parties (COP27) held last year.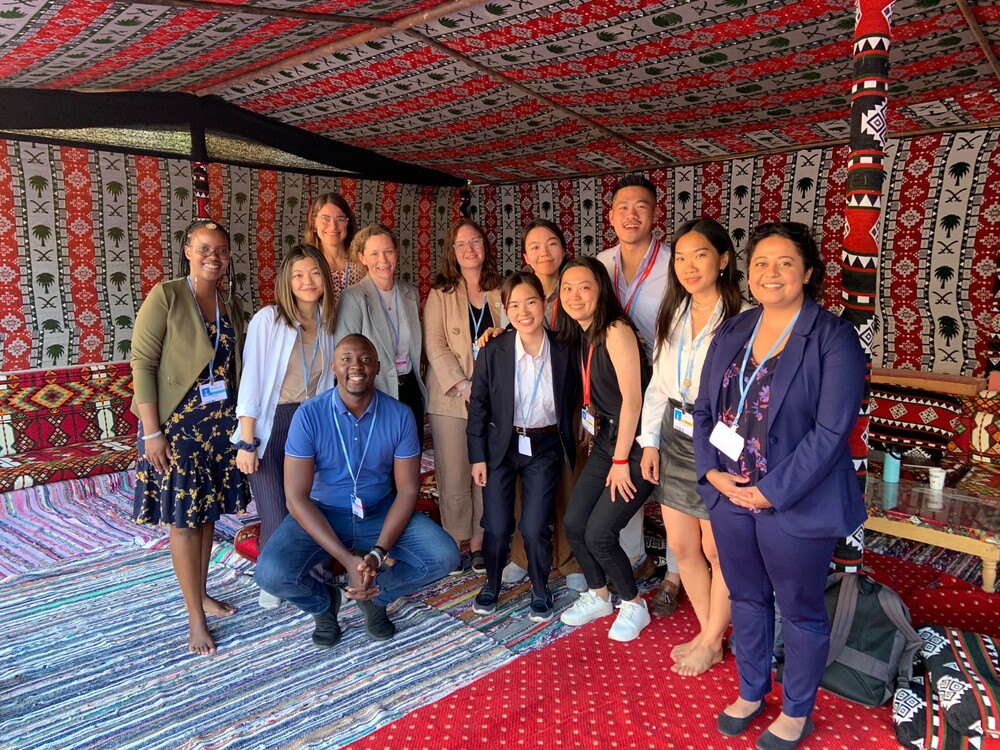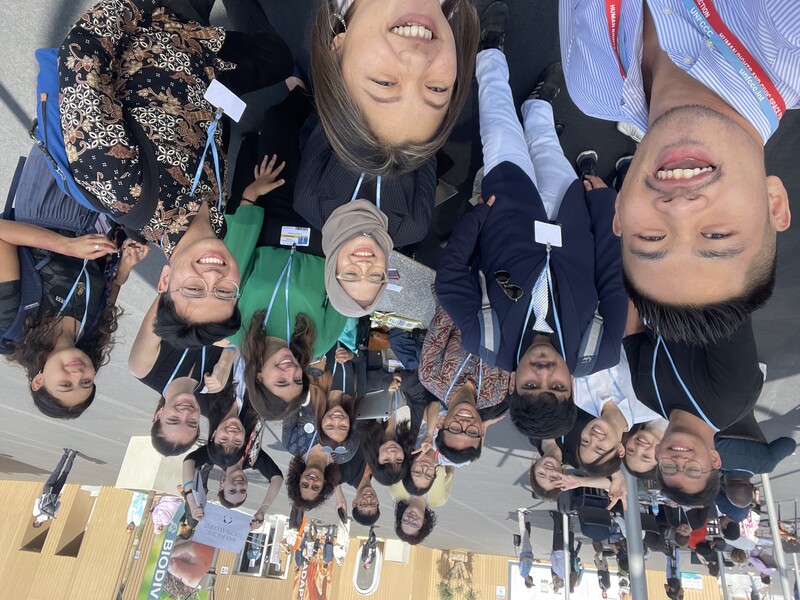 Embarking on a Mission
As a youth climate activist, Mark is dedicated to addressing the climate crisis and promoting climate justice. Recognising the lack of Asian youth representation in international forums, Mark took the initiative to encourage Hong Kong universities, including HKU, to send student delegations to COP. After putting in great effort to draft proposals, create promotional materials, and secure meetings with HKU management, Mark finally led the first university student delegation from Hong Kong to attend COP27 in November 2022. Representing East and Southeast Asian students who are often overlooked in international forums, the delegation aimed to make their voices heard and contribute to the global fight against climate change by pushing for more inclusive and ambitious actions. With prior experience from COP 26, Mark guided his fellow delegates to maximise their learning opportunities. He also played a role in crafting policy proposals, participating in bilateral meetings, and took notes of member states' stance on certain topics during official negotiations. With a welcoming atmosphere and attitude, some negotiators and Sub-Committee were open to their perspectives and voices. They agreed to take their views into consideration during the next official meeting. Mark said, 'I was proud to see youth's ideas were taken into consideration and would make a difference in the wider context of the Global Goal on Adaptation.'
Navigates the Challenges of Climate Negotiations
Young activists may become discouraged in their advocacy work, as it can involve making concessions and participating in discussions that often result in unfavourable outcomes. Despite these difficulties, the student group remained steadfast in their commitment to championing climate action. Mark focused on having informal chats and connecting with global professionals and youth fighting for the same values and goals, rather than solely working on the intergovernmental aspects at COP27. These encounters and exchange reminded Mark of the importance of applying a peoplecentric and right-based approach in generating climate policies and solutions, he said, 'Human-beings are always a crucial part in the climate crisis, and the relations between local cultures and climate actions should not be overlooked in decision making and planning processes. It is essential to have a bottom-up approach in different layers of the society to try to achieve intergenerational and intersectional equity.'
Reaping the Rewards: Takeaways from the Trip
The trip allowed the student group to immerse themselves in the global effort to combat climate change, and gained diverse perspectives and insights regarding the impacts of climate change on different communities. They returned home with newfound inspiration and a sense of responsibility to take action on climate change. As the world moves forward in the face of this crisis, the hope is that more young people like Mark, especially amongst our readers, will step up and take on the mantle of climate champions.
Conference of the Parties (COP)
The Conference of the Parties (COP) governs the UNFCCC. Representatives from 196 nations gather annually to review climate change progress and discuss solutions. Since its founding in Berlin in 1995, the COP has been the world's leading climate change forum. Countries debate their intentions to reduce greenhouse gas emissions, adapt to climate change, and finance the low-carbon economy at these gatherings.
If you are interested in taking climate actions in Hong Kong or starting your sustainability journey, feel free to follow his organisation's work for more: https://www.nesshk.org