Start main content
2023 EXTERNAL AWARD
Four young scientists awarded China's Excellent Young Scientists Fund 2023
Four of our young talented researchers at the Faculty have achieved outstanding results in China's Excellent Young Scientists Fund (Hong Kong and Macau) for 2023, a prestigious fund under the National Natural Science Foundation of China of the Ministry of Science and Technology (MOST).
This has been the fifth consecutive year for HKU to be awarded the highest number of projects among its peer institutions, after the fund was extended to Hong Kong and Macau for applications by eight designated universities since 2019.
The four young scientists and their award-winning projects:
Dr Chan Kei Yuen
Assistant Professor, Department of Mathematics, Faculty of Science
Project Title: Representation Theory of Reductive Groups
Dr Chan investigates research representation theory of general linear groups over local fields, and obtained the following three important fundamental results in branching laws:
(1) Introduced Hecke algebra methods, solving a Ext-conjecture of Prasad;
(2) Resolved the indecomposabiliy for branching laws;
(3) Proved the local non-tempered Gan-Gross-Prasad conjecture for quotient branching laws.
Dr Chan would focus on studying the following two: (1) in p-adic case, the relation of branching law for L-functions for arbitrary irreducible representations, aiming to give some generalization on the classical generic case, and (2) in real case, developing the tool of Schur-Weyl type duality and Bernstein-Zelevinsky type filtration with an eye of applications to branching laws and related problems. The main idea comes from the theory for p-adic case developed by Dr Chan.

Dr Huang Zhongxing
Assistant Professor, Department of Chemistry, Faculty of Science
Project Title: Asymmetric Catalysis
For the past three years, Dr Huang's team has devised a new class of dinuclear zinc catalysts with a tetradentate ligand to enable the desymmetric hydrosilylation of mono- and disubstituted malonic esters. The asymmetric reduction has allowed his team to access all-carbon quaternary stereocenters, tertiary alkyl halides, tertiary alcohols, and other functionalized motifs in a rapid, modular, and stereoselective fashion. Further examination of new catalysts and reaction paradigms will be carried out to investigate the asymmetric transformations of more dicarbonyl and active methylene compounds. These projects include the synthesis of chiral amino acids via asymmetric decarboxylation, desymmetric transformations of malononitrile, and construction of axial chirality and resolution methods using the dinuclear zinc catalysts.

Dr Luo Xin
Research Assistant Professor, Department of Earth Sciences, Faculty of Science
Project Title: Coastal hydrogeology
Dr Luo's past studies are centred in Submarine Groundwater Discharge (SGD) and its ecological significance in the following three areas: 1) The quantification of SGD, 2) Solute reactive transport tin the groundwater system, (3) Interaction between groundwater and surface water. In this project, Dr Luo intends to deal with three major scientific questions: 1) The characterization of the spatial temporal feature of SGD derived nutrient loadings; 2) How groundwater borne nutrient support the new production in the coastal waters; 3) exploration of the trigger mechanism of ted tide outbreak and establishment of localization model and early warning system of red tide outbreaks.
Dr Wang Peng
Assistant Professor, School of Biological Sciences, Faculty of Science
Project Title: Control of chloroplast protein homeostasis
Dr Wang intends to focus on the molecular mechanisms underlying the homeostasis of chlorophyll-binding proteins, including uncovering the regulatory mechanism orchestrating chloroplast protein translation and chlorophyll biosynthesis, dissecting the mechanism of coupling light-harvesting chlorophyll-binding protein transport and chlorophyll biosynthesis, illustrating how plants control the degradation of chlorophyll metabolic enzymes and light-harvesting chlorophyll-binding protein and exploring the feasibility plan of improving the photosynthetic efficiency of crops.

Click here to see the list of recipients from previous years.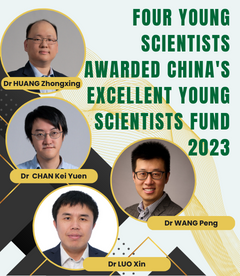 Dr Chan Kei Yuen, Dr Huang Zhongxing, Dr Luo Xin and Dr Wang Peng
Faculty of Science