Start main content
16 Dec 2019
Enhancing visibility of HKU Science at an international arena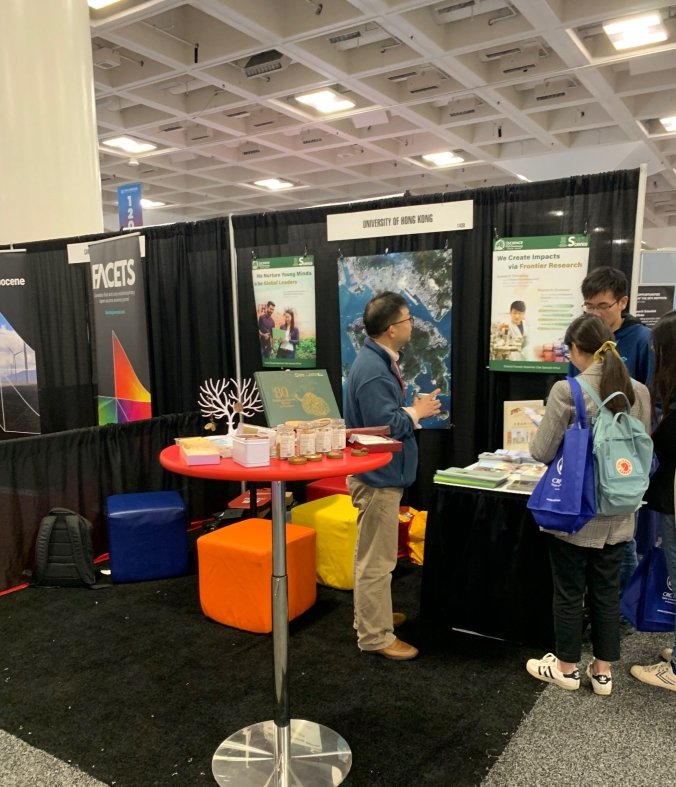 To enhance visibility of HKU Science, the Faculty participated in the 2019 American Geophysical Union (AGU) meeting as an exhibitor in San Francisco from Dec 9 to 13. Dr Joseph Michaski, Assistant Dean (Knowledge Exchange) of the Faculty, Dr Kono Lemke and Dr Baker from the Department of Earth Sciences and School of Biological Sciences respectively, led some postgraduate students there showcasing our strengths and opportunities to visitors all over the world.
Through the team's efforts, the visitors did not only learn the future ambitions of HKU, but also the expertise and research accomplishments of our professoriate staff, our international collaboration projects as well as opportunities for post-doctoral fellowship, postgraduate and undergraduate studies.
The exhibition also allowed us to reconnect with our alumni who excel in their own professions overseas, and senior academicians who are interested in visiting us or building partnerships, as well as to reach out to prospective international students who aspire to pursue science in their study and career.
Having attracted 28,000 visitors at the meeting, our visibility on the world map is further improved. We will seize more opportunities to showcase our strengths at different international exhibitions and conferences in the future.