Start main content
25 Jun 2019
In loving memory of former Dean of Science Dr Kam-Tim LEUNG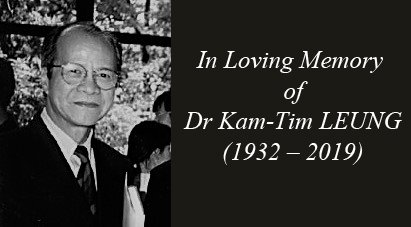 It is with deep sadness that we mourn for the passing away of Former Dean of Science Dr Kam-Tim Leung on 23 June 2019, at the age of 87. We honour the memory of Dr Leung in many aspects, be it his contributions for the Faculty development, or his relentless commitment in advancing mathematics education in the local community.
Dr Leung joined The University of Hong Kong as a Senior Lecturer in 1960, and retired in 1995 after his long services at the Faculty of Science for 35 years. In 1974-1976, he served as the Dean of Science, leading the Faculty to make positive changes in teaching. Putting academic quality at the top of his priorities, he spent great efforts in overseeing the newly introduced unit structure for undergraduate programmes.
As an important figure of the Department of Mathematics, Dr Leung's dedication to mathematics curriculum brought high impacts to the society. The book he co-authored with Dr Doris Chen on set theory had been used by generations of local secondary school students. Dr Leung had been influential to the mathematics education in Hong Kong. He was the Vice-Chairman of the Advanced-Level Examinations Board before the Hong Kong Examination Authority took over the examinations from the university. For many years, he was an advisor of the subject committees of the Curriculum Development Council and Examination Authority. He had also established close connection with high schools for decades.
Dr Leung will be dearly missed for his passion for education, devotion in Mathematics, care for his colleagues, students and friends. With deep regret and profound sorrow, we offer our condolences to his wife Cosette and his family.
With best regards,
Matthew Evans
Dean of Science