Start main content
28 May 2021
Research Assessment Exercise (RAE) 2020 affirms HKU Science's world-leading research positions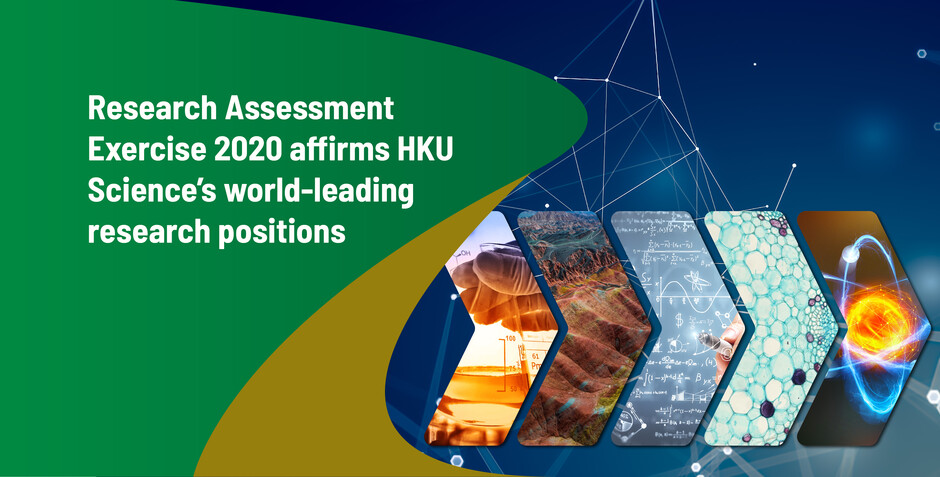 We are pleased to announce the encouraging results of HKU Science's performance in the latest Research Assessment Exercise (RAE) 2020 published on May 24, 2021. Among the five Units of Assessment (UoA) to which HKU Science submitted, under the Panels of Physical Sciences and Biology, we outperform other local universities and achieve the highest percentage of 4* ratings in three UoAs including Chemistry, Earth Sciences and other Physical Sciences, and Mathematics and Statistics, affirming our world-leading position in the aforementioned fields (37% of all research submitted by the Faculty was judged to be world-leading (4*) by the RAE panel). Overall, 83% of the research submissions by HKU Science's 118 eligible staff is rated as world-leading (4*) or internationally excellent (3*), this is compared to the Hong Kong-wide figure of 78% for science disciplines that we submitted (Chemistry 99% (sector 92%), Physics and Astronomy 95% (sector 91%), Earth Sciences and Other Physical Sciences 85% (sector 77%), Mathematics and Statistics 82% (sector 77%) and Biological sciences 62% (sector 61%)).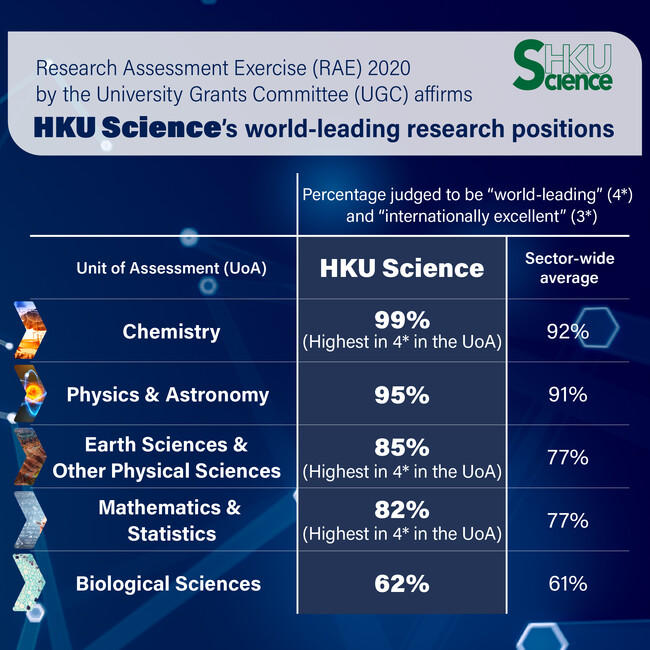 Dean of Science Professor Matthew EVANS was delighted to see the result of RAE recognising our exceptional standing in terms of research output, impact and environment. "We have retained top spot in Hong Kong in the UoAs where we had first place in 2014 and we have seen large improvements in the others. I want to thank everyone involved with getting the RAE done and congratulate you all, thank you for your hard work. The gains are very welcome," he remarked. The Faculty will continue to strive for even greater achievements in our research endeavours in the years ahead.
The RAE 2020 is part of the University Grants Committee (UGC)'s ongoing efforts to assess the performance of the UGC-funded universities in research. It is a criterion-referenced assessment exercise against agreed quality levels as defined by international standards, covering research outputs completed during October 2013 to September 2019. About 16,000 research outputs involving some 4,200 eligible academic staff, 340 research impact case studies and 190 research environment submissions were assessed in this exercise. About 70% of the research projects assessed were judged by international experts to be "internationally excellent" or above – 25% being "world leading" and 45% "internationally excellent". Details of the RAE 2020 results can be found
here
.