Start main content
04 Jan 2021
Food & Nutritional Science students serving the community under COVID-19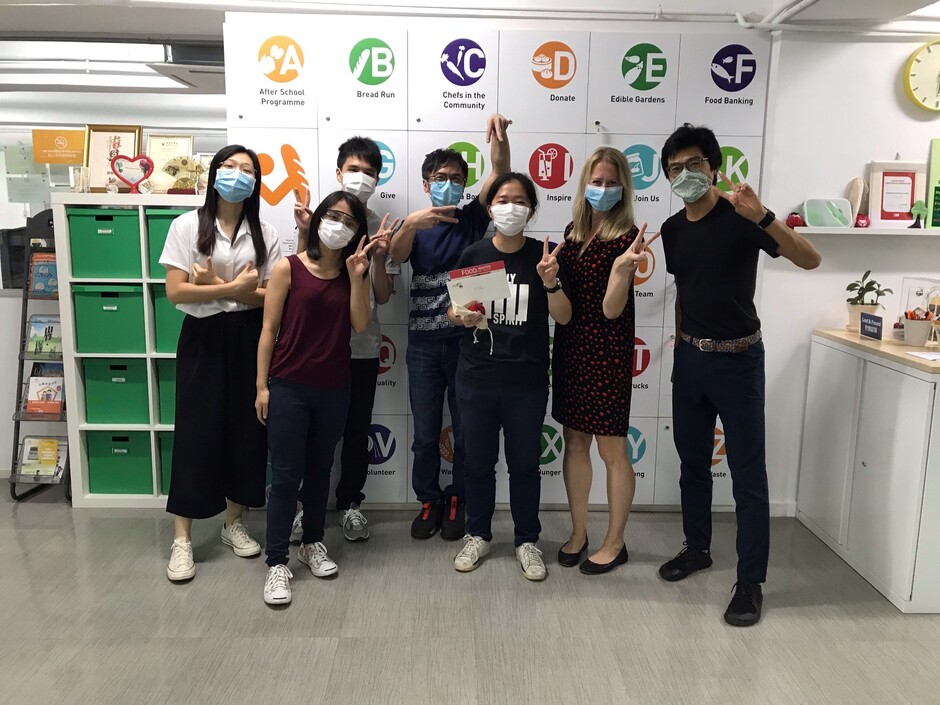 The protracted COVID-19 situation has put an unprecedented strain on food supply chains globally. While the community has been finding ways to step up to the challenges imposed by the fallout, 10 science students were also committed to foster food sustainability and help reduce food waste in the community by taking part in the Food & Nutritional Science Internship Scheme at NGOs.
Without any hesitation to contribute towards a more sustainable food environment, Year 3 student Ms Tsz Kiu WONG (third from the right) whose major is Food & Nutritional Science, got a 3-month internship in Feeding Hong Kong last summer, where she worked as an operation intern in the food sourcing team, assisting in identifying prospective food donors by placing cold-calls and sending cold-emails.
Turning difficulties into opportunities
The universal work-from-home practice made it exceptionally challenging to promote food donation, especially when potential donors are generally less incentivised to do so under the pressure of economic turmoil. Nonetheless, difficulties and adversity make one grow, Tsz Kiu paid extra efforts in liaising with donors and took the opportunity to familiarise herself with the software "Salesforce", a cloud-based platform for customer relationship management which she has been learning to use in classes. She also compiled reports on potential food donors, amount of food donated, as well as the prediction of their future growth.
Being a helper of the entire logistics process, from donation pitching to food collection and sorting, Tsz Kiu realised that the internship was a golden opportunity for her to get acquainted with how the food donation chain works. Other than hands-on working skills, she also learnt to be more patient and caring after making numerous phone calls and working with people in need.
About Food & Nutritional Science Internship Scheme
Among the 77 students participating in the Food & Nutritional Science Internship Scheme, 10 of them were with NGOs. The scheme aims to offer students the opportunities to gain authentic discipline-related working experience in the industry. Students have to take at least 160 hours of internship work, either within or outside the University, then compile a report and give a brief presentation upon completion.