Start main content
Distinguished Lecture Series - Stacking van der Waals Atomic Layers: Quest for New Quantum Materials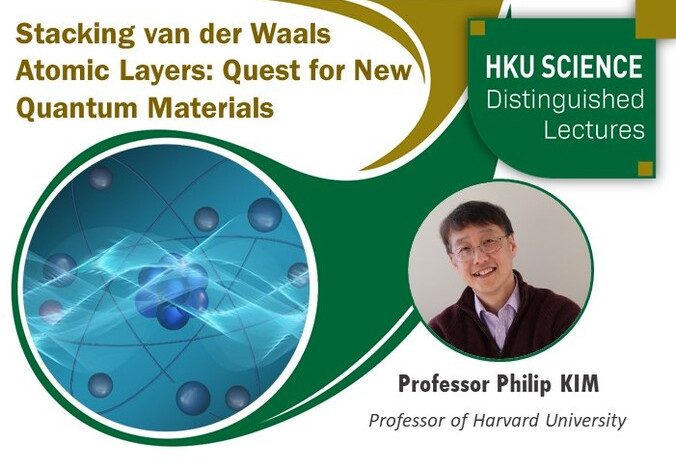 Date & Time

February 2, 2021 (Tues) | 10am (HKT)
Venue

ZOOM online lecture (https://bit.ly/3m2wCHv)
Speaker

Professor Philip Kim
Professor of Harvard University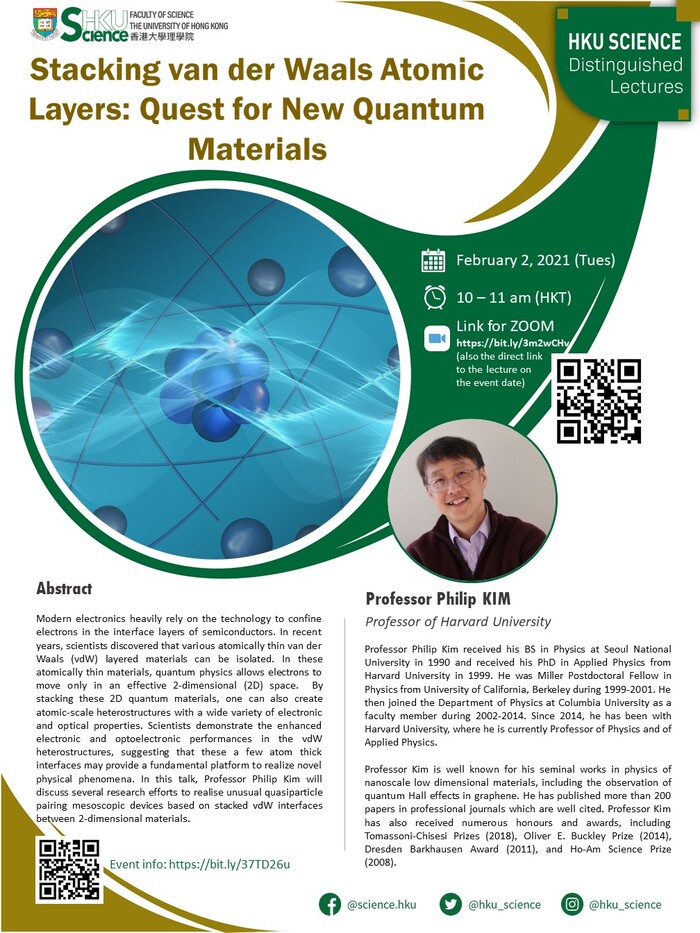 Modern electronics heavily rely on the technology to confine electrons in the interface layers of semiconductors. In recent years, scientists discovered that various atomically thin van der Waals (vdW) layered materials can be isolated. In these atomically thin materials, quantum physics allows electrons to move only in an effective 2-dimensional (2D) space. By stacking these 2D quantum materials, one can also create atomic-scale heterostructures with a wide variety of electronic and optical properties. Scientists demonstrate the enhanced electronic and optoelectronic performances in the vdW heterostructures, suggesting that these a few atom thick interfaces may provide a fundamental platform to realize novel physical phenomena.
In this talk, Professor Philip Kim will discuss several research efforts to realise unusual quasiparticle pairing mesoscopic devices based on stacked vdW interfaces between 2-dimensional materials.
Playback video: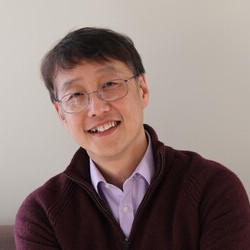 Speaker

Professor Philip Kim
Professor of Harvard University
Professor Philip Kim received his BS in Physics at Seoul National University in 1990 and received his PhD in Applied Physics from Harvard University in 1999. He was Miller Postdoctoral Fellow in Physics from University of California, Berkeley during 1999-2001. He then joined the Department of Physics at Columbia University as a faculty member during 2002-2014. Since 2014, he has been with Harvard University, where he is currently Professor of Physics and of Applied Physics.
Professor Kim is well known for his seminal works in physics of nanoscale low dimensional materials, including the observation of quantum Hall effects in graphene. He has published more than 200 papers in professional journals which are well cited. Professor Kim has also received numerous honours and awards, including Tomassoni-Chisesi Prizes (2018), Oliver E. Buckley Prize (2014), Dresden Barkhausen Award (2011), and Ho-Am Science Prize (2008).
You may also be interested in