Start main content
Distinguished Lecture Series - Copper-dependent Biological Methane Oxidation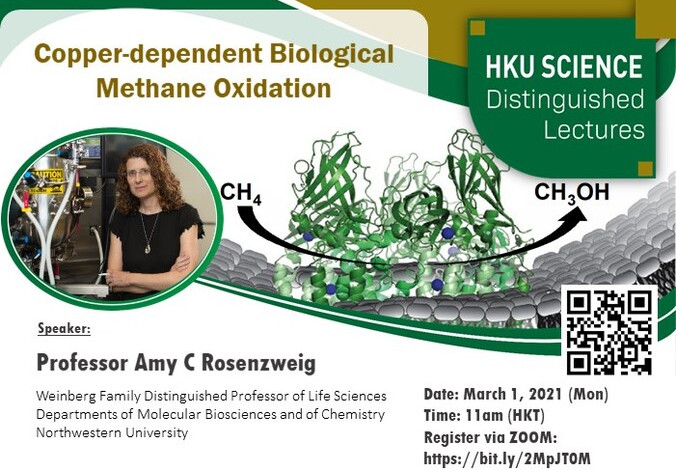 Date & Time

March 1, 2021 (Mon) | 11am (HKT)
Venue

ZOOM online lecture (https://bit.ly/2MpJT0M)
Speaker

Professor Amy C Rosenzweig
Weinberg Family Distinguished Professor of Life Sciences, Departments of Molecular Biosciences and of Chemistry, Northwestern University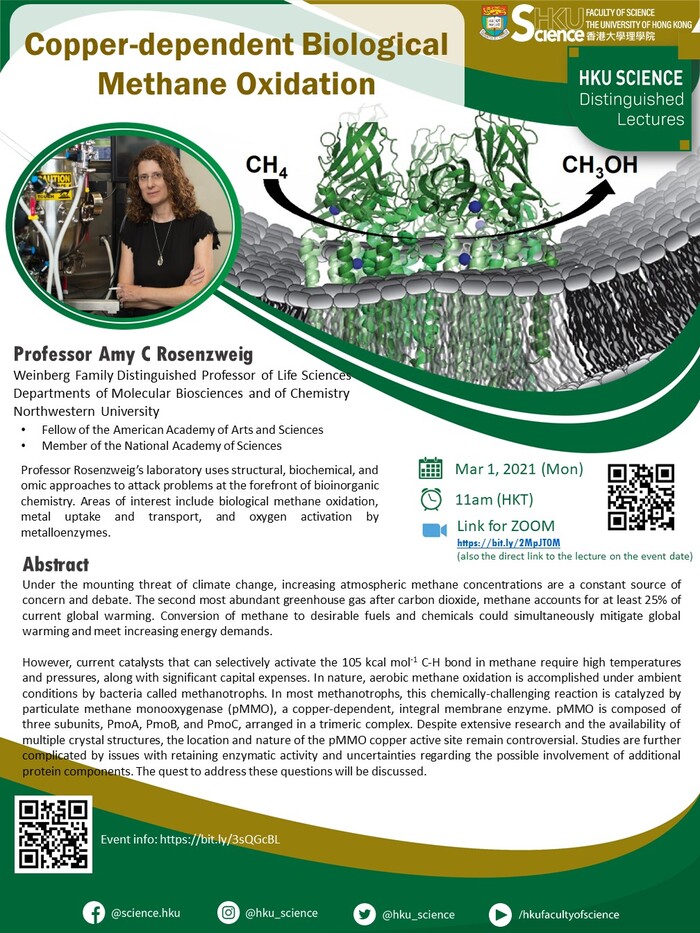 Under the mounting threat of climate change, increasing atmospheric methane concentrations are a constant source of concern and debate. The second most abundant greenhouse gas after carbon dioxide, methane accounts for at least 25% of current global warming. Conversion of methane to desirable fuels and chemicals could simultaneously mitigate global warming and meet increasing energy demands.
However, current catalysts that can selectively activate the 105 kcal mol-1 C-H bond in methane require high temperatures and pressures, along with significant capital expenses. In nature, aerobic methane oxidation is accomplished under ambient conditions by bacteria called methanotrophs. In most methanotrophs, this chemically-challenging reaction is catalyzed by particulate methane monooxygenase (pMMO), a copper-dependent, integral membrane enzyme. pMMO is composed of three subunits, PmoA, PmoB, and PmoC, arranged in a trimeric complex. Despite extensive research and the availability of multiple crystal structures, the location and nature of the pMMO copper active site remain controversial. Studies are further complicated by issues with retaining enzymatic activity and uncertainties regarding the possible involvement of additional protein components. The quest to address these questions will be discussed.
Playback video: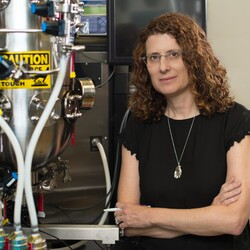 Speaker

Professor Amy C Rosenzweig
Weinberg Family Distinguished Professor of Life Sciences, Departments of Molecular Biosciences and of Chemistry, Northwestern University
Professor Amy Rosenzweig received a BA in Chemistry from Amherst College and a PhD in Inorganic Chemistry from Massachusetts Institute of Technology (MIT). After postdoctoral research at Harvard Medical School, she joined the faculty of Northwestern University where she is currently the Weinberg Family Distinguished Professor of Life Sciences. She is a fellow of the American Academy of Arts and Sciences and a member of the National Academy of Sciences.
Her laboratory uses structural, biochemical, and omic approaches to attack problems at the forefront of bioinorganic chemistry. Areas of interest include biological methane oxidation, metal uptake and transport, and oxygen activation by metalloenzymes.
Website:
You may also be interested in