Start main content
Distinguished Lecture - Characterising Genetic Basis of Complex Traits Through Integrated Statistical Modelling and Analyses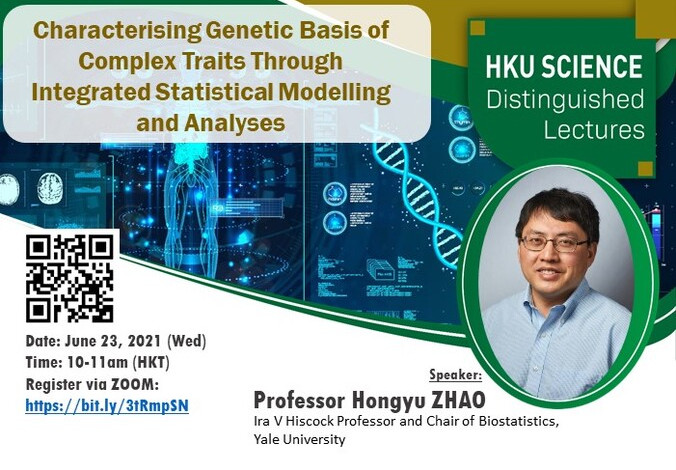 Date & Time

June 23, 2021 (Wed) | 10-11am (HKT)
Venue

ZOOM online lecture (https://bit.ly/3tRmpSN)
Speaker

Professor Hongyu ZHAO
Ira V Hiscock Professor and Chair of Biostatistics, Yale University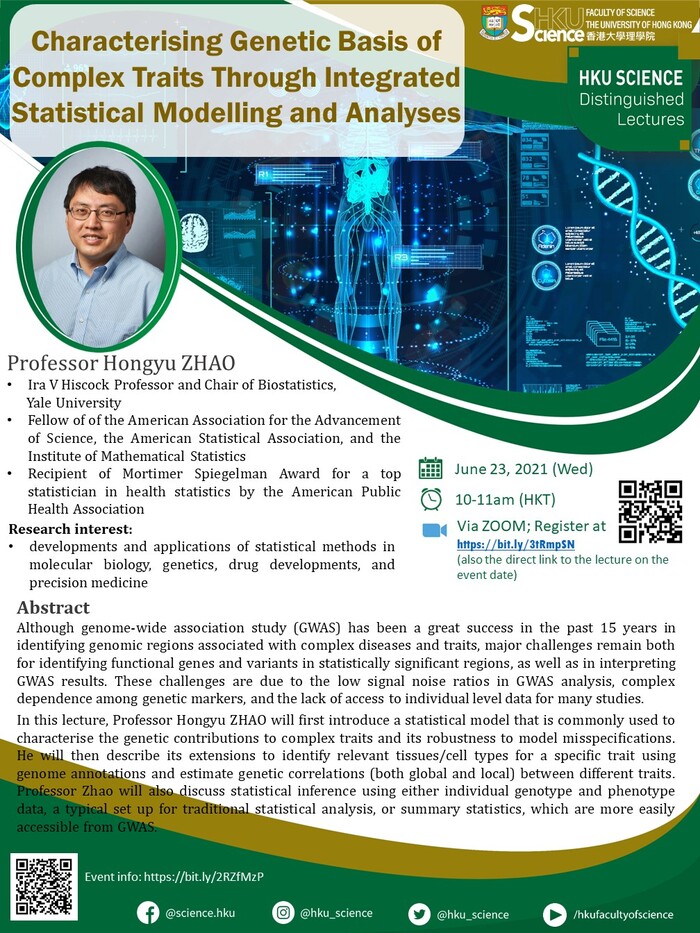 Although genome-wide association study (GWAS) has been a great success in the past 15 years in identifying genomic regions associated with complex diseases and traits, major challenges remain both for identifying functional genes and variants in statistically significant regions, as well as in interpreting GWAS results. These challenges are due to the low signal noise ratios in GWAS analysis, complex dependence among genetic markers, and the lack of access to individual level data for many studies.
In this lecture, Professor Hongyu ZHAO will first introduce a statistical model that is commonly used to characterise the genetic contributions to complex traits and its robustness to model misspecifications. He will then describe its extensions to identify relevant tissues/cell types for a specific trait using genome annotations and estimate genetic correlations (both global and local) between different traits. Professor Zhao will also discuss statistical inference using either individual genotype and phenotype data, a typical set up for traditional statistical analysis, or summary statistics, which are more easily accessible from GWAS.
Playback video: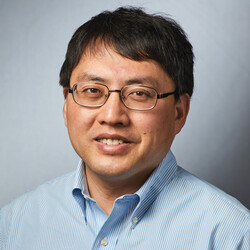 Speaker

Professor Hongyu ZHAO
Ira V Hiscock Professor and Chair of Biostatistics, Yale University
Professor Hongyu ZHAO is the Ira V Hiscock Professor and Chair of Biostatistics at Yale University. He received his BS in Probability and Statistics from Peking University in 1990 and PhD in Statistics from UC Berkeley in 1995.
His research interests are the developments and applications of statistical methods in molecular biology, genetics, drug developments, and precision medicine. He is the recipient of several honours, including the Mortimer Spiegelman Award for a top statistician in health statistics by the American Public Health Association, and Pao-Lu Hsu Prize by the International Chinese Statistical Association. His research has also been recognised by the Evelyn Fix Memorial Medal and Citation by UC Berkeley, a Basil O'Connor Starter Scholar Award by the March of Dimes Foundation, election to the fellowship of the American Association for the Advancement of Science, the American Statistical Association, and the Institute of Mathematical Statistics.
You may also be interested in