Start main content
The 210th Congregation, Faculty of Science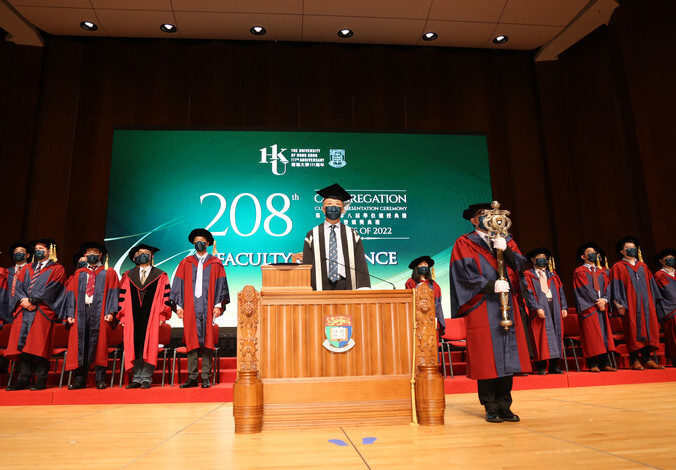 Date & Time

July 18, 2023 (Tuesday) | 12:15 pm — 5:45 pm
Venue

Grand Hall, Lee Shau Kee Lecture Centre, Centennial Campus, HKU
Session 1

Time

12:15 pm — 3 pm

Degrees

Doctor of Philosophy, Master of Philosophy, Master of Data Science, Master of Statistics, Bachelor of Arts and Sciences in Applied Artificial Intelligence and Bachelor of Science — Biological Sciences, Biological Sciences (Intensive), Ecology & Biodiversity, Ecology & Biodiversity (Intensive), Food & Nutritional Science, Molecular Biology & Biotechnology and Molecular Biology & Biotechnology (Intensive)
Session 2

Time

3:15 pm — 5:45 pm

Degrees

Bachelor of Science — Astronomy, Biochemistry, Chemistry, Chemistry (Intensive), Decision Analytics, Earth System Science, Environmental Science, Geology, Geology (Intensive), Mathematics, Mathematics (Intensive), Physics, Physics (Intensive) Risk Management, Statistics, and Bachelor of Science in Actuarial Science
We are pleased to announce that the 210th Congregation, Faculty of Science, HKU will be held on July 18, 2023 (Tuesday).
As in previous years, the Ceremony is regarded as one of our biggest events and is very much looked forward to by our graduates. Families and friends of our graduates will be proud to see them recognised on stage at this memorable and once-in-a-life occasion. Class of July 2023, please mark this important date in your calendar, and we will notify graduates individually by HKU email by April 2023. Please keep checking your @connect.hku.hk mail box to get messages from the Faculty. Stay tuned.
For general information about Congregation, please visit
here
.