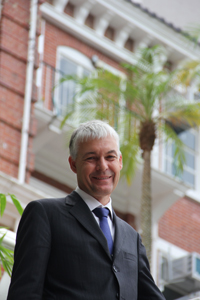 Class of 2020, my biggest congratulations to all of you on your graduation! You are now part of a community of over 25,000 HKU science alumni drawn from 40 countries around the world. You have worked long and hard to get here, getting through more than a semester of online teaching due to the disruption caused by first the social unrest in Hong Kong, and then outbreak of COVID-19. I hope you are proud of yourselves, you should be, we are very proud of you.
The last year has been very difficult as a devastating pandemic swept across the globe. COVID-19 has been an unprecedented international public health emergency, posing threats to the health of vulnerable people in the population; the novel coronavirus and society's reactions to the threat of the virus have also wrecked plans in every aspect of our life – it stormed through the global economy and many activities have ground almost to a complete halt. It is true that while combating disease, there were delays in creative thinking, yet in a way it also created opportunities for scientists who were prepared to try and seize them.
As members in the science community, what have we learnt? I would say it is willingness to address and grapple with global challenges. In the past year, we have seen scientists and other experts from diverse fields racing to outpace the pandemic. Together they formulate solutions and create knowledge. This demonstrates that science provides the underlying basis for us to understand our lives and solve our problems. Though some of you might not have embarked on a career in science, I hope that you have all inherited the logical and analytical thinking we always emphasise in the Faculty. Always seek to further your own education, do not stay complacent as only the quest of knowledge will keep us moving. You have seen the need for this yourselves as your teachers grappled with understanding how to convert their face-to-face teaching to an online format.
The Faculty also adheres to this thinking. We aspire to pursue research eminence, and our six new Research Divisions are now in position to nurture our research strengths. We strive to achieve breakthroughs in scientific research whose works or applications could have a profound impact on mankind. We have one of the world's premier science faculties here, what we need is targeted support to fuel our cutting-edge research and keep us at the forefront of our subjects. We are seeing the evidence of this in the fact that the Faculty has had five of its recent appointments awarded the extremely prestigious National Natural Science Foundation of China Excellent Young Scientists Fund. In addition in the last year we have had other members of staff elected to fellowships of the Academia Europea and the American Physical Society. Frontier research is important because the only way that the quality of teaching can be maintained at the very forefront of a discipline is by ensuring that students are taught by active researchers.

While we want you to know about our achievements, we look forward to hearing about the developments of newly minted graduates too. Being the Dean of the Faculty, my wish is not limited to witnessing your growth during your studies, but to know how our education has shaped who you are today and how you develop in the future. I wish you every success as you embark on a new chapter of life, and take your place in society.

You are now facing a dynamic and increasingly internationalised society. The essence of globalisation is the ability to adapt to new circumstances and to anticipate the need for change and formulate creative solutions at a deep structural, societal and cultural level. This applies to all kinds of work. Graduates, go explore the world and broaden your perspectives, stay open-minded for global views in the age of information and technology. Our future needs leaders like you.
Graduates, we hope you keep HKU Science in your thoughts and continue to connect with your alma mater in the future. All the very best to your future endeavours!

Professor Matthew Evans
Dean of Science