Start main content
2023 EXTERNAL AWARD
Professor Xiang David LI receives 2024 Tetrahedron Young Investigator Award (Bioorganic and Medicinal Chemistry)
Professor Xiang David LI from the Department of Chemistry has been awarded the prestigious Tetrahedron Young Investigator Award 2024 for his exceptional contributions to the field of Bioorganic and Medicinal Chemistry. The award, established in 2005 by the Executive Board of Editors and the Publisher of Tetrahedron Publications, is given to just two individuals each year who have exhibited "exceptional creativity and dedication" in the fields of organic synthesis and bioorganic and medicinal chemistry, respectively. The previous awardees include Carolyn R. Bertozzi and David MacMillan, the 2022 and 2021 Nobel Prize winners in Chemistry.

Professor Li will deliver a plenary lecture at the 24th Tetrahedron Symposium in Montpellier, France, where they will be formally presented with his award. Furthermore, a special issues in Bioorganic & Medicinal Chemistry and Bioorganic & Medicinal Chemistry Letters will be compiled in his honour.
"I'm very honored to be recognized by Tetrahedron for our research work," Professor Li said. "I am extremely grateful to all my co-workers who have dedicated themselves to pushing our science forward to address key challenges in chemistry and biology."
Professor Li's academic journey began with a Bachelor's degree in chemistry from Fudan University in 2003. He went on to pursue a PhD in organic and bioorganic chemistry at The University of Hong Kong, working under the guidance of Professor Dan YANG. Following his doctoral studies, he moved to New York for postdoctoral training in chemistry and cell biology with Professor Tarun M KAPOOR at Rockefeller University. In 2011, he returned to HKU as an Assistant Professor, eventually being promoted to full professor in 2020.

At the forefront of the interface between chemistry and biology, Professor Li's research focuses on unraveling the intricacies of histone post-translational modifications (PTMs) using chemical approaches. His groundbreaking work involves the development of innovative chemical tools and methodologies for the comprehensive identification of proteins involved in 'writing', 'erasing', or 'translating' histone PTMs. This research has shed light on the biological roles played by specific histone modifications and their implications in normal physiology and disease pathogenesis.

Professor Li's outstanding achievements have been recognised through numerous prestigious awards and honors, including the CAPA Distinguished Faculty Award, NSFC Excellent Young Scientists Award, and the Early Career Award from the Hong Kong Research Grant Council. The Tetrahedron Young Investigator Award serves as yet another testament to his exceptional contributions to the field of Chemical Biology.

His dedication, creativity, and passion for advancing scientific knowledge have made Professor Xiang David Li a deserving recipient of this esteemed accolade. His research not only pushes the boundaries of our understanding of histone PTMs but also holds immense potential for future advancements in the field of epigenetics.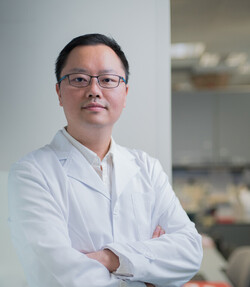 Professor Xiang David LI
Department of Chemistry