Start main content
2019 EXTERNAL AWARD
Professor Guochun Zhao and Professor Min Sun received the 2018 Natural Science Award (First Class) of Chinese Education Ministry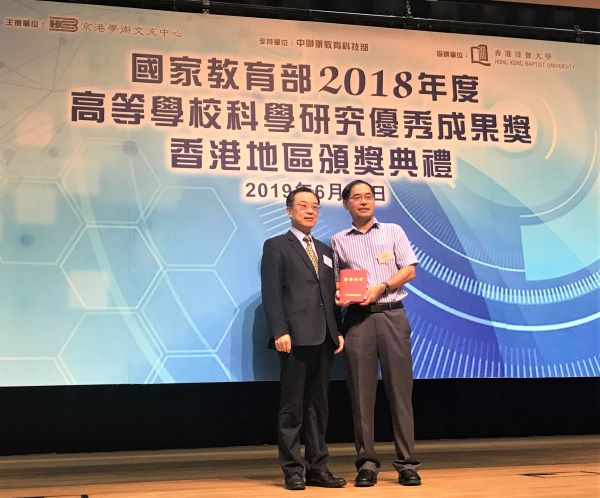 Professor Guochun Zhao (right) attended the Prize Presentation Ceremony.
Professor Guochun Zhao and Professor Min Sun from the Department of Earth Sciences were awarded the 2018 National Natural Science Award (First Class) from the Chinese Education Ministry as the second and third receivers for their project entitled "Paleoproterozoic Tectono-thermal Evolution of the Jiao-Liao-Ji Belt and Early Precambrian Transition of Tectonic Regimes", together with Professor Sanzhong Li from Ocean University of China and Professor Xiwen Zhou from the Institute of Geology of Chinese Academy of Geological Science, who are the first and fourth receivers of this award.
This project has led to the reinterpretations of formation and evolution of the Paleoproterozoic Jiao-Liao-Ji Belt that developed from a continental rifting basin, through an ocean, to the closure of the ocean, leading to continent-continent collision. The research results of the project have been highlighted by more than 16 refereed papers published in leading international journals and two books published by Springer and Elsevier, which have been cited by others for more than 1100 times.
Professor Guochun Zhao, Professor Min Sun and Professor Sanzhong Li were also the receivers of the 2014 National Natural Science Award (Second Class Prize) for their project entitled "Paleoproterozoic amalgamation of the North China Craton and the assembly of the Columbia supercontinent".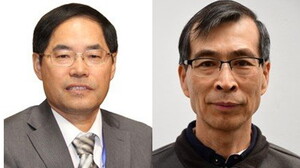 Professor Guochun Zhao (left) and Professor Min Sun