Start main content
2022 EXTERNAL AWARD
Professor Vivian Wing-Wah YAM earned another signature accolade: The InnoStars Award
Good news comes one after another. Following her recent honour award for the Silver Bauhinia Star, Professor Vivian Wing-Wah YAM, Dean of Science (Interim) and Philip Wong Wilson Wong Professor in Chemistry and Energy, recently received another accolade, the InnoStars Award from Our Hong Kong Foundation (OHKF), in recognition of her dedications to cutting-edge research that fosters the frontiers of chemistry.
In the citation, Professor Yam was honoured for "her dedication and hard work in Inorganic Chemistry and Photochemistry". She pioneered the development of new classes of luminescent metal complexes that are applied to OLED display, a cheaper and more energy-efficient alternative to traditional lighting and display technology, thereby alleviating global warming and climate change. Besides, she has carried on teaching and disseminating knowledge not only to promote the importance of science to the general public, but also to convey the message that Hong Kong is an excellent place for basic science research and to build the city's reputation on the international stage.
About The InnoStars Award
Established in 2018, the InnoStars Award aims to recognise Hong Kong leaders who innovate to excellence in science and technology, business model, social innovation, or culture and creativity by pushing beyond traditional boundaries and bringing innovative products and services to the Mainland and overseas. The Award inspires creativity and innovation, promotes entrepreneurship, fosters economic diversification, and showcases Hong Kong people's innovative talent. The judging panel received a record high of more than 120 nominations this year, and nine winners were selected after two rounds of rigorous evaluation.
About Professor Yam
Professor Yam obtained both her BSc (First Class Hons) and PhD from HKU. Her research interests include inorganic/organometallic chemistry, supramolecular chemistry, photophysics and photochemistry, and metal-based molecular functional materials. Her career has been marked by many significant awards for her highly distinguished scientific contributions – she was a recipient of the American Chemical Society (ACS) National Award – the 2022 Josef Michl ACS Award in Photochemistry. She was also honoured with designation as the inaugural Pioneer in Energy Research by ACS Energy and Fuels in 2021, with a Special Issue dedicated to her. In 2020 she was awarded the Porter Medal by the European Photochemistry Association, the Inter-American Photochemistry Society and the Asian and Oceanian Photochemistry Association.
Professor Yam is an elected Member of the Chinese Academy of Sciences (2001), Fellow of The World Academy of Sciences (TWAS) (2006), International Member of the US National Academy of Sciences (2012), Foreign Member of Academia Europaea (2015), and Founding Member of the Hong Kong Academy of Sciences (2015). She was Laureate of the 2011 L'Oréal-UNESCO For Women in Science Award. Furthermore, she was the recipient of the Royal Society of Chemistry (RSC) Centenary Medal in 2005/06, RSC Ludwig Mond Award in 2015, Japanese Photochemistry Association (JPA) Eikohsha Award in 2006, Japan Society of Coordination Chemistry (JSCC) International Award in 2016, and a Croucher Senior Research Fellowship in 2000/01, etc. She has been serving as the Chief Editor for Chemistry for the new flagship journal Natural Sciences of Wiley since 2020, and she has been elected by the General Assembly of The International Organization for Chemical Sciences in Development (IOCD) as President since 2022. Her dedicated services to the innovation and technology community also earned her the Silver Bauhinia Star in 2022.
Click
here
for the Announcement of OHKF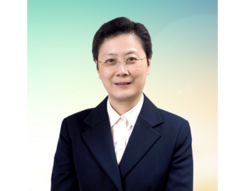 Professor Vivian W W YAM
Department of Chemistry