Start main content
UNIVERSITY AWARD
Outstanding Young Researcher Award 2017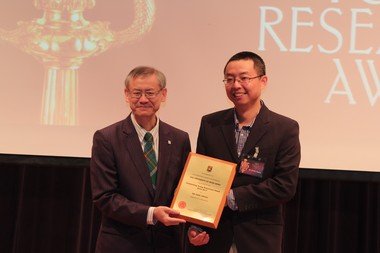 Dr Jinyao Tang
Department of Chemistry
Dr Tang studied Chemical Physics at the University of Science and Technology of China before he moved to the United States, where he obtained his PhD degree in Chemistry from Columbia University in 2008. Dr Tang continued his research at the University of California, Berkeley and Lawrence Berkeley National Laboratory on nanomaterials application in renewable energy before joining the University of Hong Kong in 2012. He is currently an Assistant Professor in the Department of Chemistry.
During his time at HKU, Dr Tang has been focussing his research on active colloidal nanoparticle systems, which involves designing smart nanorobotic systems for biomedical and environmental applications. His studies have pioneered a new direction to design highly controllable light-driven nanorobots. As the first group to demonstrate the programmable microswimmer, Dr Tang's team has stimulated broad interest across the scientific community as well as the general public towards practical nanorobots for biomedical applications, as reported by Scientific American in February 2017. The new findings and developments achieved by the team help in the design of functional nanorobots, which have the potential for a wide range of applications from in-situ health monitoring to cancer therapy.
Dr Tang believes that real-world challenges require cross-disciplinary efforts. His team's projects are highly interdisciplinary, involving chemistry, physics and material science. Since there is no boundary for practical problems, Dr Tang always encourages his team members to think outside the box.