Start main content
UNIVERSITY AWARD
Outstanding Young Researcher Award 2017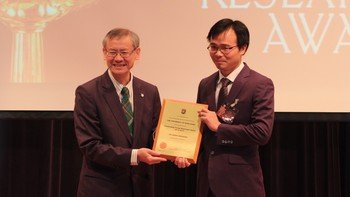 Dr Shizhong ZHANG
Department of Physcis

Dr Zhang obtained his BSc degree from Tsinghua University in 2003, and received his PhD degree in Physics from the University of Illinois at Urbana-Champaign in 2009. He joined the University of Hong Kong in August 2012 and is currently an Assistant Professor in the Department of Physics.
Dr Zhang is a theoretical physicist whose main interests lie in the field of ultra-cold atomic gases. This is a new interdisciplinary field that explores the quantum behaviour of interacting particles at extremely low temperatures. Currently, his research focusses on the transport phenomena in the strongly interacting ultra-cold atomic gases, where no universally accepted theoretical framework has yet been established. For example, one of his research studies at HKU is the investigation of spin diffusion behaviour in the so-called unitary Fermi gas, where the particles interact as strongly as quantum mechanics allows. In collaboration with his experimental colleagues at the University of Toronto, he offered theoretical predictions and explanations of the experimental results that have deepened our understanding of the transport properties of strongly interacting Fermi systems. The long-term goal of Dr Zhang's research is to develop new theoretical frameworks for transport, which can also have important implications for other fields in physics. Dr Zhang was awarded the Croucher Innovation Award in 2015.
Dr Zhang believes that there are no small problems in research and that (almost) all 'small' problems can lead to big discoveries.