Start main content
UNIVERSITY AWARD
Outstanding Young Researcher Award 2015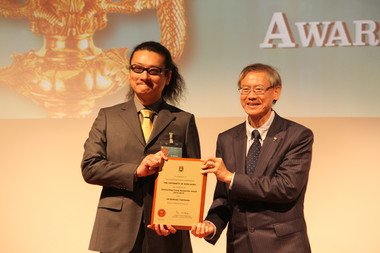 Dr Moriaki Yasuhara
School of Biological Sciences
Dr Yasuhara received his BSc, MSc, and PhD from Osaka City University, Japan. He then undertook about seven years of postdoctoral work at Osaka City University, the United States Geological Survey, the Smithsonian's National Museum of Natural History, and Kochi University. In 2011, he joined the School of Biological Sciences, the Department of Earth Sciences, and the Swire Institute of Marine Science at the University of Hong Kong as an Assistant Professor.
Marine palaeoecology (ecology using fossils) and macroecology (ecology over large spatial scales), especially those using highly-resolved microscopic fossil (microfossil) records, are the main areas of Dr Yasuhara's broad research interests. His recent research has focussed on the spatio-temporal dynamics of large-scale biodiversity patterns, the climatic and temperature impacts on species diversity, and the controlling factor(s) of biodiversity patterns and changes in shallow-marine, deep-sea, and pelagic ecosystems. He is also interested in microfossil-based conservation palaeobiology to reconstruct human-induced ecological degradation history, as well as palaeontology of the Ostracoda in general.
Dr Yasuhara has been conducting highly interdisciplinary research, especially focussing on studying microfossil records from the (macro)ecological point of view. He believes that a synthesis of biological study of living organisms and palaeoecological study of fossils may be essential for truly holistic understanding of biological diversity.