Start main content
UNIVERSITY AWARD
Outstanding Young Researcher Award 2014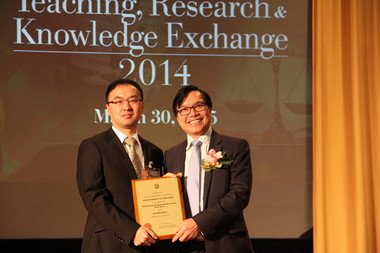 Dr Xuechen LI
Department of Chemistry
Dr Li received the University Outstanding Young Researcher Award 2014 for his outstanding research accomplishments.
Dr Li received his BSc degree from NankaiUniversity, MSc from the University of Alberta and PhD from HarvardUniversity (2003-2006). After postdoctoral work at MemorialSloanKetteringCancerCenter in New York, he joined the Department of Chemistry at the University of Hong Kong as an Assistant Professor in 2009 and was recently promoted to Associate Professor in 2014.
The central theme of Dr Li's research focusses on the chemical biology of peptides / proteins and carbohydrates with the aim of studying fundamental biological questions and developing potential therapeutic applications. Over the past five years, Dr Li and his team have established their signature research by developing a novel peptide / protein ligation technology, which has made a great impact on the field. This technology has been selected and highlighted by The Cutting Edge of Chemistry — Thomson Reuters (October 2013). In addition, they have been working on the development of new cyclic peptide-based antibiotics and carbohydrate-based anti-influenza viral agents. Dr Li has published over 30 peer-reviewed papers at HKU since 2009. He was made a Taishan Scholar in Pharmacy(Shandong) in 2012 and received a Wuxi PharmaTech Life Science and Chemistry Award in 2013.
Dr Li believes that the most exciting part in his academic career is growing alongside young students and helping them develop positive and mature attitudes, critical thinking, perseverance, and self-motivation when facing challenges and frustration.