Start main content
UNIVERSITY AWARD
Outstanding Young Researcher Award 2009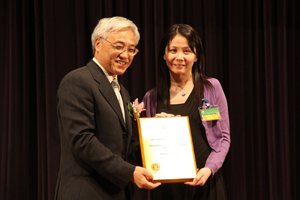 Dr Wing-yee LUI
School of Biological Sciences
Dr LUI received her BSc (first class honours) in 1999 and PhD in 2002 from the University of Hong Kong. During her pre-doctoral training, she was granted numerous awards and scholarships including the Sir Edward Youde Fellowship and the University Women Scholarship. She started working at HKU as a Postdoctoral Fellow and was promoted to Research Assistant Professor in 2005. She is currently an Assistant Professor in the School of Biological Sciences.
Dr Lui's research interests are cell adhesion and male reproductive biology. Her research has focused on understanding the precise mechanism of cell junction restructuring pertinent to germ cell movement and development. Abnormality in junction restructuring could result in male infertility. Using the cell culture system and rat model, her research team has identified a cytokine and its downstream signalling pathway that are crucial for regulating junction restructuring during spermatogenesis. Results obtained from her studies not only provide new insights for the development of non-hormonal male contraceptives, but also improve our understanding of unexplained male infertility.
Dr Lui believes that perseverance with a positive mindset makes everything a possibility. She is grateful for the opportunities that HKU has given her since her undergraduate studies. She thanks her mentors, Professor Will Lee and Dr Yan Cheng, for introducing her to the wonderful journey of science and for sharing their wisdom in research and life. She would also like to thank her research students for their hard work and to credit this award to the support of her family.