Start main content
UNIVERSITY AWARD
Outstanding Teaching Award 2020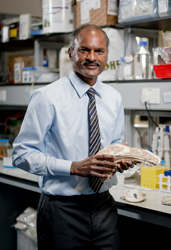 Dr Thiyagarajan VENGATESEN
School of Biological Sciences
"I am a strong believer in 1) interactive teaching with great passion, enthusiasm, and dedication, 2) research-led, hands-on, and field-based experiential education, and 3) exposure of students to an interdisciplinary platform for innovation and to explore entrepreneurship in science.

Our HKU students would like to be constantly engaged with their colleagues and teachers, particularly outside the classroom, and involved with solution-based group projects using experiential learning tools particularly under interdisciplinary platform – where students and teachers from various backgrounds are meeting together to be innovative and impactful. These students' expectations align and shaped my core teaching philosophy, and become an integral part of my curriculum design and teaching. I always create opportunities for students to participate in field observation, and understand real-world issues from nature, in small groups for subsequent presentation of new ideas with solution, using various new tools such as digital diary, as part of course learning and assessment.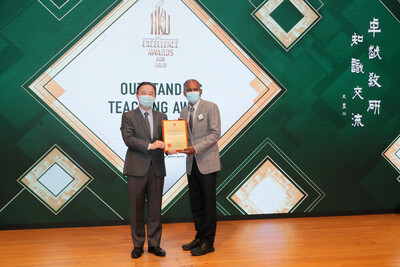 My strong advice and belief is that all our undergraduate students, irrespective of their major or future career, should have entrepreneurship project development skills. Such innovative and applied ideas will create an opportunity for students to apply their classroom knowledge to real-life experiences. Whenever possible I also include field observation, learning, and real-world experience as part of my teaching, course assessment, and curriculum development."
STUDENTS' WORDS OF APPRECIATION
"As soon as I have decided to take Ecology and Biodiversity major, I have talked to Dr Rajan to get to know more about the major and potential future opportunities – his enthusiastic suggestions and guidance made me feel so comfortable with my major selection. I always remember the tea party that Dr Rajan organised involving all Ecology teachers and all colleagues from the major, which extensively helped me broaden my understanding of the major and get to know more friends, especially when I was in Year One. In our school, Dr Rajan is well known for interdisciplinary education and for organising overseas 'internships' and field courses. These interdisciplinary courses gave me new knowledge, confidence, and hands-on training. Before interacting with Dr Rajan, I never thought that I will become an entrepreneur even before I graduate because this concept is relatively new to many science undergraduate students. Yes, thanks to Dr Rajan and his experiential education over the past three years, now I am part of an HKU's undergraduate students' team that have founded a new company called 'Soonlution', which has become a finalist after out-competing over 100 innovation companies and teams in China (Shenzhen) Innovation & Entrepreneurship Competition (Hong Kong & Macau division) – I am serving as CEO and Co-founder of the company while continuing my undergraduate study at HKU."
LAW HO KA
BSc, current student
---
"I am a BSc student (double major in Molecular Biology and Ecology and Biodiversity) – participant of various courses. These overseas experiential educational courses provided me with a treasured experience in learning about marine farming, its business and its importance in sustainability, which is not what a typical ecology course offers. Dr Rajan offered us hands-on experience on oyster aquaculture through knowledge and cultural exchange with other universities such as Universiti Sains Malaysia (USM). Interactions with facilitators enhanced knowledge exchange, allowed us to generate constructive and creative suggestions on how to apply similar work in local context – our group presented the idea of establishing an 'Oyster Museum in Hong Kong'. Getting distinction in several HKU courses is always exciting, but more importantly, courses offered by Dr Rajan have inspired me. I wish to be able to participate in Hong Kong's sustainable oyster aquaculture development in the future and am ready to build a museum specifically for oysters."
GAMI HIOL LOK YEE
BSc 2017