Start main content
UNIVERSITY AWARD
Outstanding Research Student Supervisor Award 2016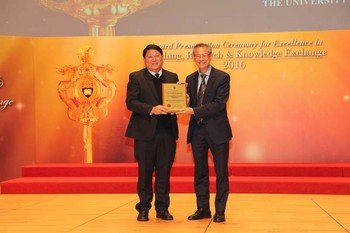 Professor Kenneth M Y LEUNG
School of Biological Sciences
Professor Leung has long been passionate about environmental protection. After obtaining a BSc in Applied Environmental Sciences from the University of Portsmouth and an MPhil in Environmental Science from the City University of Hong Kong, he received the Swire Group's James Henry Scott PhD Scholarship and obtained his PhD in Marine Ecotoxicology from the University of Glasgow. Before joining the University of Hong Kong in 2002, he was a Croucher Foundation Postdoctoral Research Fellow at Royal Holloway, University of London.
Professor Leung's research interests include marine ecology, ecotoxicology, biodiversity conservation, and fisheries management, with over 160 refereed articles in these areas. He was the President of the Asia-Pacific Geographic Unit of the Society of Environmental Toxicology and Chemistry (2010–2012). He is currently an Editor-in-Chief of the journal Regional Studies in Marine Science (Elsevier) and serves as an editorial board member for six other journals. He actively provides advice on environmental policies to the Government through his memberships of various statutory committees such as the Advisory Council on the Environment and the Advisory Council on Food and Environmental Hygiene. In recognition of his professional achievements and dedicated community service, he was selected as one of the 'Ten Outstanding Young Persons' for Hong Kong by the Junior Chamber International in 2010.
Watching students grow and excel is Professor Leung's favourite aspect of supervising research postgraduates. He often uses the motto "If you never try, you'll never know" to motivate them to be creative and innovative.