Start main content
UNIVERSITY AWARD
Outstanding Research Student Supervisor Award 2013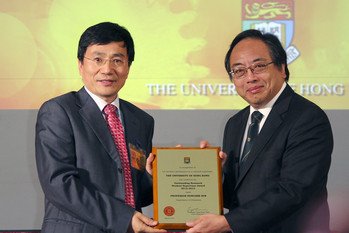 Professor Sun Hongzhe
Department of Chemistry
Professor Sun received the University Outstanding Research Student Supervisor Award 2013 for his guidance to his research students.
Professor Sun received his PhD from the University of London (Birkbeck) in 1996. After two years as a Research Fellow at the University of Edinburgh, he joined the Department of Chemistry at the University of Hong Kong as an Assistant Professor and was promoted to Professor in 2007. He is the recipient of The National Natural Science Foundation of China (NSFC) Outstanding Young Scholar Award (2005), a Croucher Senior Research Fellowship (2010–2011), and the HKU Outstanding Researcher Award (2009–2010).
The main areas of Professor Sun's research lie at the interface between inorganic chemistry and biology / medicine. He and his team have been working on the chemical biology of metals, in particular on the recognition of metallodrugs by biomolecules; the structure and function of metal transport and storage proteins; and metallomics / metalloproteomics.
When supervising his research students, Professor Sun's approach has three key elements: encouragement, stimulation and training. He encourages his students to pursue frontier research, to explore new ideas, strategies and techniques, and to aim for excellence. He stimulates his students' interest in their projects and seeks to boost their curiosity. To support their research, Professor Sun provides comprehensive training, from project design through to experimentation, analysis and write-up. The numerous awards and prizes received by his students over the years and their post-graduation successes have given Professor Sun much satisfaction.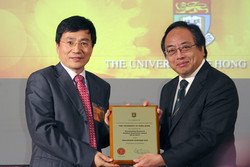 Professor Hongzhe Sun
Department of Chemistry