Start main content
UNIVERSITY AWARD
Outstanding Researcher Award 2016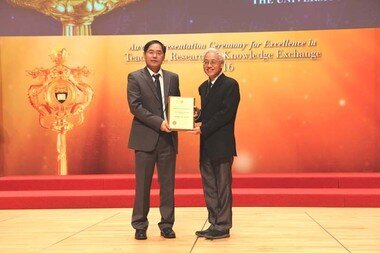 Professor Guochun ZHAO
Department of Earth Sciences
Professor Zhao earned BSc and MSc degrees from Changchun University of Earth Sciences (now merged into Jilin University) in 1985 and 1988, respectively, and a PhD degree from Curtin University (Australia) in 2000. Since August 2000, he has been working in the Department of Earth Sciences at the University of Hong Kong, where he is now a Professor. He is also a visiting Chair Professor at Northwest University (Xi'an) through the Changjiang Scholars Program.
Professor Zhao's main research fields are metamorphic petrology, Precambrian geology and supercontinents. His main research findings include discoveries of two continental collisional belts in North China that are 1.85 to 1.95 billion years old, and the first proposal that global-scale collisional events 1.8 to 2 billion years ago led to the assembly of the pre-Rodinia supercontinent, named 'Columbia' or 'Nuna'. These findings have produced more than 250 publications, with more than 20,000 citations. He was awarded as a Distinguished Overseas Young Scholar by the National Natural Science Foundation of China (2004), Highly Cited Researcher by Thomson Reuters (2014, 2015, 2016) and Laureate of the 29th Khwarizmi International Award (2016). He won the State Natural Science Award (Second Class) as lead investigator in 2014. Also in 2014, he was elected a Fellow of the Geological Society of America. He is the Editor-in-Chief of Precambrian Research, a leading journal in Precambrian geology.
In terms of a philosophy of research, Professor Zhao likes Albert Einstein's classic statement "If you can't explain it simply, you don't understand it well enough".