Start main content
UNIVERSITY AWARD
Outstanding Researcher Award 2009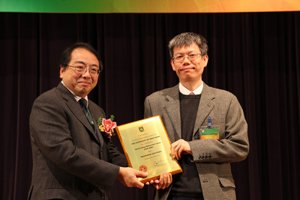 Professor Jian WANG
Department of Physics
Professor Wang is currently working in the field of nano-scale physics and nano-technology, a cutting-edge research area being pursued by major laboratories around the world. His key contribution to the field is on the quantum transport theory and modeling in nanostructures. On the theoretical side, he has successfully developed necessary formalisms to predict AC as well as nonlinear DC transport properties using the scattering matrix theory, the response theory, and the non-equilibrium Green's function theory.
Professor Wang's theoretical developments are closely linked with numerical investigations of atomic and molecular devices. He has developed, for the first time, a general theory for nonlinear AC transport at finite frequency, which is current conserving and gauge invariant, based on the non-equilibrium Green¡¦s function approach and the response theory. In addition, he has successfully combined the non-equilibrium Green¡¦s function theory with the first principle density function theory and developed state-of-the-art first principle quantum transport theory and a numerical method. The new method has become the de facto standard technique for modeling the quantum transport of nano-devices.
Due to these significant contributions, Professor Wang was awarded the Achievement in Asia Award of the Overseas Chinese Physics Association in 1999 and received a Croucher Senior Fellowship in 2009.